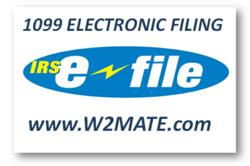 W2 Mate imports data from Sage 50 and meets the 1099 electronic filing requirements of the Internal Revenue Service.
Chicago , IL (PRWEB) December 26, 2012
Real Business Solutions Inc. (W2Mate.com), have released the 2012 / 2013 1099 electronic filing software for Sage 50 (formerly Sage Peachtree) with support for Sage 50 Complete Accounting, Premium, Quantum, Accountant Edition, Construction, Distribution, Manufacturing and Nonprofit. W2 Mate can remap 1099 data stored inside Sage 50 into more than 12 types of tax forms including 1099-MISC, 1099-INT, 1099-DIV, 1099-K, 1099-R, 1099-S, 1098-T, 1098, 1099-A, 1099-B, 1099-C, 1099-PATR and 1099-OID.
W2 Mate meets the 1099 electronic filing requirements of the Internal Revenue Service and a number of state departments of revenue by proving the ability to generate files in the IRS 1099 electronic filing format. The W2 1099 software also fully supports the EFW2 format for e-filing W2's with the Social Security Administration and states that accept EFW2 submissions.
A free 1099 program evaluation can be downloaded from http://www.W2Mate.com. Customers can purchase the software and receive it instantly.
The IRS FIRE (Filing Information Returns Electronically) system is set up for financial institutions and others to file Information Return Forms 1042-S, 1097, 1098, 1099, 3921, 3922, 5498, 8027, 8935, or W-2G. An Information Return is a tax document required by Internal Revenue Code regulations and is used to report certain types of payments made by financial institutions and others who make payments as a part of their trade or business. The IRS describes electronic filing as "The hottest way to file your Information Returns with the coolest results."
W2 Mate Software Highlights:

Supports an unlimited number of 1099 Filers and unlimited number of employees and 1099 recipients.
Prints 2012 1099 recipient copies on regular white paper.
Unlimited 2012 1099 E filing using IRS FIRE System (No per form fees and No data transmission charges).Unlimited 2012 W2 electronic filing submissions using the EFW2 format.
Generates ready-to-email 2012 W-2 forms and 1099 forms. Which eliminates the need to print and email W2s and 1099s.
SSA-approved to print W2 and W3 forms on regular paper including government copies.
Data import from Sage Peachtree, MS Dynamics, Great Plains, Intuit QuickBooks, Sage DacEasy, Excel and CSV.
Efficient and intuitive manual W2 / 1099 data entry.
Supports 1099MISC, 1099K, 1099INT, 1099DIV, 1099R, W2, W3, 1096, 1099S, 1098T, 1098, 1099A, 1099B, 1099C, 1099PATR, 1099OID.
Automatically calculates Social Security and Medicare taxes. For paper filers 1096 and W3 are automatically generated.
Supports Windows 8, Windows 7, Windows Vista, Windows XP, Windows Server 2003, Windows 2000 or Windows 98.
Roll-over of payer and recipient information from year to year.
Password protection and data validation.
Generates printing labels, form totals and recipient lists.
Prompt, courteous and reliable U.S.-based support through phone, chat or e-mail.
Network ready with affordable pricing for multiple seats.
Exports W2s and 1099s to excel.
Meets IRS and SSA regulations.
TIN matching and verification including reports for missing TINs and TIN matching errors.
On-premise software solution to be installed on individual computers / workstations.
Supports foreign recipient address for 1099 forms (such as Canadian).
Helps filers comply with state 1099 filing requirements.
Complete 1099 electronic filing software for accountants, CPAs and small business.
Risk-free evaluation of W2 Mate can be downloaded from http://www.W2Mate.com. Customers can purchase the software and receive it instantly.
About Real Business Solutions: Established in 2003, Real Business Solutions is an industry leader in providing simple payroll software, IRS 1099 printing programs and W2 printing and E-Filing programs for 2013, 2012, 2011 and before. Real Business Solutions products are used by thousands of businesses, tax professionals, non-profit organization, and government agencies all across America. The Company's mission has been to provide powerful and great value software solutions coupled with high quality customer service.