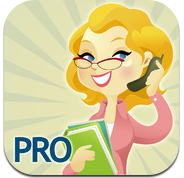 Now, professional women can easily and instantly get the salary research they need to earn what they truly deserve.
Boston, MA (PRWEB) March 12, 2013
Professional women who are looking for a new job, preparing for their annual performance review, or gearing up to ask for a raise can now download the innovative iPhone and iPad app "Earn More Girl Pro," and instantly see what they should truly be earning -- and not what they might be offered due to gender pay gap.
Created by salary negotiation teacher, coach, blogger and speaker Katie Donovan, Earn More Girl Pro lets professional women enter their target salary, and then select a specific job from the same categories used by the US Dept. of Labor. In total, there are 135 jobs in the app's database, and a default option for those who are unsure of the right option.
Once a job is selected, Earn More Girl Pro uses the gender pay gap for the occupation, and the breakdown of men and women who work in that job, to calculate the true target salary -- which is the amount that professional women should be aiming for if they're looking for a job, or asking for if they're due – or overdue -- for a raise. Plus, professional women can use the app to immediately calculate their own personal pay gap, which is the amount that they would be earning right now if they were male.
"Research shows that women typically estimate the value of a salary lower than men, and the difference can be a much as 30%," commented Katie Donovan, who recently launched a new no-risk 360-degree salary negotiation coaching program for professional women. "And salary research sites provide salary ranges and distribution based on the incomes of both men and women, which makes it impossible to determine gender pay gap, and as such displays a target salary that is too low for professional women. Earn More Girl Pro simply and elegantly corrects this flaw. Now, professional women can easily and instantly get the salary research they need to earn what they truly deserve."
"Since meeting Katie at the Boston Women's Conference, where I offered PR advice and guidance to entrepreneurs and professionals from a variety of fields, I knew that her innovative app Earn More Girl Pro was a must-have tool for professional women," commented Donovan's public relations and promotions partner, Robin Samora, Principal of Robin Samora Inc. "I also knew that Katie's mission to empower professional women with the coaching, tools and information they need to earn what they deserve was something I wanted my firm to support. In the bigger picture, the gender pay gap serves nobody. A fair and equitable labor market, where all individuals earn what they deserve regardless of gender, is a win on every level – economically, socially, culturally and politically."
Earn More Girl Pro is available now for in the App Store at https://itunes.apple.com/us/app/earn-more-girl-pro/id583002671?ls=1&mt=8. The app requires iOS 5.1 or later, and is optimized for iPhone 5.
For more information or media inquiries, contact Robin Samora at (617) 921-3448 or Robin(at)
RobinSamoraInc(dot)com.
About Katie Donovan
Katie Donovan is a salary negotiation teacher, coach, blogger and speaker on equal pay and women's salary negotiations. She also has more than 20 years of experience in negotiating contracts in such diverse industries as engineering, automotive, high-tech, and human resources. In addition to a wealth of speaking and teaching experience with such institutions as Harvard Business School, Business and Professional Women (BPW) and more, Katie has contributed to Forbes.com and HuffPost Live, and has been quoted and covered in articles on theglasshammer.com and Salary.com. Learn more at http://equalpaynegotiations.com.
About Robin Samora Inc.
Telling a story is personal. Sharing it is an art. Technology makes it global. Robin Samora Inc., a Boston, MA-based PR, branding and promotions firm blends all three to take its clients' businesses and brands to the next level. With clients like Comcast, WBZ-TV and Blue Man Group, and a roster of authors, entrepreneurs and experts nationwide, the firm prides itself on being a "Promotional GPS" that takes its clients' brands where they want to go to be seen, heard, engaged and remembered. With over two decades of experience, the firm is as comfortable on major media highways as it is on out-of-the-way niche back roads. Learn more at http://www.RobinSamoraInc.com.