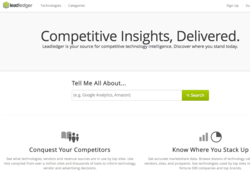 [C]ompanies looking for a competitive advantage should start revising their marketing approaches sooner rather than later
San Francisco, CA (PRWEB) March 03, 2013
Sales tool LeadLedger of San Francisco, CA is celebrating the launch of its flagship product this week. LeadLedger provides intelligence and sales tools for technology sales professionals, marketing staff and tech executives.
With LeadLedger, B2B sales staff can easily generate competitor client lists, marketing teams can create regular marketshare reporting and executives can better understand competitive positioning. What started as a small bootstrap operation has rapidly grown into one of the leading technology intelligence tools in use today.
The system currently tracks thousands of technologies in dozens of B2B categories including analytics tools, conversion optimization tools, social media management and display media platforms. Sites are ranked and categorized, allowing one to find prospects on top visited websites, Fortune 500 companies, and top internet retailers.
LeadLedger works in concert with B2B marketing automation tools such as Marketo, Eloqua, HubSpot and Salesforce by cataloguing technologies and vendors in use by millions of sites across the internet, then providing competitor lead data to import into such systems. Soon LeadLedger will take marketing lists and provide alerts and notifications when competitors gain or lose clients.
Senior Forrester Analyst Thomas Grant notes in a recent analysis, "[C]ompanies looking for a competitive advantage should start revising their marketing approaches sooner rather than later." Clients of LeadLedger include top ranked display technology platforms and internet marketers.
With this latest release, LeadLedger becomes the solution of choice for a growing number of sales and marketing executives. LeadLedger case studies show that some clients have generated thousands of new leads in their respective areas, resulting in net new sales, as well as providing accurate marketshare information for boardrooms and investors. This rapid, easy sales leads generation capability may partly explain the 200% average monthly client growth since the founding of LeadLedger in 2012.
ABOUT LEADLEDGER:
LeadLedger is a source for digital competitive sales intelligence. LeadLedger provides sales leads and competitive intelligence spanning dozens of verticals and thousands of businesses.
At the core of LeadLedger is a proprietary technology platform that evaluates millions of sites, known client lists, and other third party data sources to understand which vendors a given site utilizes. With LeadLedger, sales executives can identify qualified prospects, digital executives can monitor market trends, and professionals throughout an organization can understand competitor technology usage.