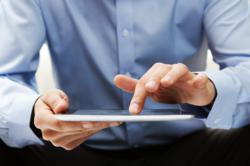 it's a simple and cost effective way of being one step ahead of your competitors
Melbourne, VIC (PRWEB) September 19, 2012
JobSync – a mobile ordering system for sales reps – allows orders to be taken in the field and processed immediately. It also gives sales reps live access to inventory levels, avoiding customers ordering out-of-stock products.
Since the app came onto the market it's been an instant hit with many Australian businesses keen to improve their bottom line and productivity.
"JobSync is a one-stop solution for sales reps, improving turn-around time and reducing human error," says Damian Smith, developer of the unique iPhone and iPad app.
"We've had enquiries from a number of clients who love using the app and want to use it on their company iPads," says Mr Smith.
"We are pleased to report that while JobSync is an iPhone app – it is compatible on all iPads. This not only opens up the market to sales reps with iPads – but provides businesses with a multiple technology solution to their ordering system."
All iPhone apps are available on the iPad when doubling the screen size.
"By downloading the app, sales reps with iPads can now check the client's account history before knocking on their door," says Mr Smith.
"They can access the client's last order, check live stock levels and place orders directly linking into their account system. Sales reps iPads can also be used to display their latest catalogue to customers."
"With access to JobSync on iPads, iPhones and Windows Mobile devices – it's a simple and cost effective way of being one step ahead of your competitors," Mr Smith says.
Since ideally being designed for sales reps on the go, JobSync has found further application in the retail environment. It has enabled staff to eliminate the paper systems from many of their processes, such as daily inventory updates and has made ordering out-of-stock items instantaneous – which has delivered customers strong results.
This adaption was driven by the team behind the App itself – SyncIT. SyncIT Development is an Australian owned software development company and has been providing businesses with leading technology solutions for over ten years. In addition to their standard software, SyncIT continue to develop and maintain a number of custom solutions for different business.
JobSync V1.1 can be downloaded from the App Store for both iPhone and iPad, or by contacting SyncIT Development. For more information regarding JobSync visit http://www.jobsync.com.au.