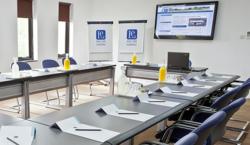 Lane End Conference Centre is a fantastic location. It creates a calm, peaceful environment that most hotels cannot deliver at this affordable price.
Lane End, Buckinghamshire (PRWEB) March 12, 2013
Resellers of fleet telematics solutions converged on Lane End Conference Centre to continue their national sales excellence programme.
Seventy-five delegates attended the national sales conference at Buckinghamshire-based Lane End.
The three-day conference – themed Bigger, Smarter, Stronger – was the fifth event of its kind. It was organised by the Sales Conference Company.
SCC has been working with a leading manufacturer of fleet telematics for the last two years to help its resellers provide better solutions for customers.
For this sales conference, SCC worked with its client to deliver meaningful content to inspire further growth through 2013.
Along with co-developing presentations, SCC also delivered interactive activities that were aligned with the event's theme.
The event started with a pre-conference meeting for 15 delegates before the main conference for 75 on days two and three.
Lane End Conference Centre was able to provide delegates with complete privacy because it offers meeting rooms for hire in five completely self-contained buildings.
The centre is set in 26 acres of beautiful Chilterns countryside and is just an hour from the centre of London.
Its proximity to the major airports makes it ideal for companies looking for conference venues near Heathrow.
Stephen Button from the Sales Conference Company said: "Lane End Conference Centre is a fantastic location.
"It creates a calm, peaceful environment that most hotels cannot deliver at this affordable price.
"Service is always with a smile. Being an independent venue allows Lane End Conference Centre the flexibility that hotel chains tend not to cater for.
"For example, most conference venues will make you pay for Wi-Fi access. With Lane End it comes in the price and is extremely fast."
Delegates held their meetings in The Pavilion – the largest building at Lane End.
The Pavilion comprises a main conference room with capacity (theatre-style) for 150 and three meeting rooms for up to 50, 38 and 30 delegates.
Accommodation and dining were directly opposite in the newly refurbished Wycombe Lodge, the most self-contained of Lane End's conference and training venues.
SCC's Stephen Button said: "We hope to book more events at Lane End on behalf of our clients. It's a great venue for sales team events that improve sales results."
Lane End Sales and Marketing Manager Heni Fourie said: "We're delighted that the resellers and SCC had such a great conference experience and look forward to welcoming them back."
Lane End is a finalist in two categories of the meetings industry's M&IT Awards which will be held later this month. It is shortlisted for Best UK Conference Centre and Best UK Management Training Centre.
The popular conference centre enjoys an 87 per cent customer retention rate, thanks to its accredited gold standard customer service.
Lane End's residential training venues have recently undergone a major programme of refurbishments including new dining facilities and superfast broadband up to 100Mb.
For further details about meeting facilities in Buckinghamshire, contact Heni Fourie, telephone +44 (0)845 521 3013.
-Ends-
Notes for Editors
Lane End Conference Centre
Church Road
Lane End
Buckinghamshire
HP14 3HH
United Kingdom
Tel: +44 (0)845 521 3013
Lane End Conference Centre offers state of the art residential conference facilities, set in 26 acres of beautiful Chilterns countryside just 30 miles from London.
Delegates enjoy hi-tech conference facilities, ample free parking and free broadband access on-site – all within swift and easy reach of the capital.
Lane End Conference Centre has 104 bedrooms, 32 meeting rooms, four lounge and bar areas, dining rooms, a games room with a lounge and bar, plus plenty of fitness and leisure facilities.