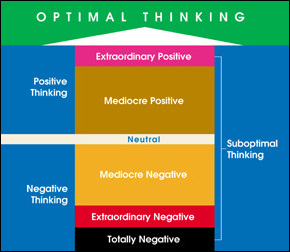 mental basis of peak performance
Los Angeles, CA (PRWEB) November 16, 2006
OptimalThinking.com announced today the launch of the Continuous Sales Optimization Program, powered by Optimal Thinking.
"Sales opportunities are squandered every day because sales organizations are rife with suboptimal thinking. Every time a sales person thinks suboptimally, productivity, revenue, profits and market share are compromised. That's why I have assembled a team of top sales industry experts and we are now launching the Continuous Sales Optimization Program" emphasized Rosalene Glickman, Ph.D., international best-selling author of Optimal Thinking and founder of OptimalThinking.com.
Hailed by academia and the media as the "successor to positive thinking" and the "mental basis of peak performance", Optimal Thinking is sweeping the corporate world. Based on the Optimal Thinking book (Wiley, and in 15 languages), the new Continuous Sales Optimization Program shows sales people and organizations how to optimize (not just improve or manage) sales performance in five key areas - Optimal Thinking, Strategy, People, Process, and Platform.
Dr. Glickman explains that "After consulting with the CEO and/or the senior sales executives, we uncover the source of suboptimal thinking and performance in individuals, teams and the entire sales organization with our proprietary Optimal Thinking 360 Online Assessment. The assessment reveals their hierarchy of thinking, core motivation, stressors, priorities, preferred interaction styles, and provides a roadmap to optimize performance. We can then customize Optimal Thinking training to meet the specific needs of individuals and teams and achieve optimal performance through best practices. As we are totally confident in our ability to optimize the sales organization's return on investment (ROI), we offer a 30-day money back guarantee."
According to Don McNamara CMC, author of Visionary Sales Leadership and sales optimization consultant at OptimalThinking.com, "Sales management training and development programs do not address the root cause of sales success and failure - the level of sales force thinking. That's the missing link. Sales people simply fail to think through and execute the optimal course of action in sales situations. Personnel using Optimal Thinking strategies and tactics determine the best course of action each and every time. Optimal Thinking is a milestone breakthrough because it delivers immediate best-self performance."
According to Mark Friedman, the sales process optimization expert at OptimalThinking.com, "Our proprietary sales process assessment ascertains the sales organization's cost per lead and the best strategies to obtain the most qualified leads. We provide an optimal reporting infrastructure and closed-loop lead optimization system. The sales process and methodology must maximize the use of qualified leads and best support the business strategy and sales quotas."
Dr. Rosalene Glickman, Don McNamara CMC and Mark Friedman are available for TV, radio, and print media interviews to discuss sales optimization and the new Continuous Sales Optimization Program. To schedule an interview, contact Anne West at (310) 557-2761.
For more information, visit OptimalThinking.com
OptimalThinking.com is a division of The World Academy of Personal Development Inc, a Century City, Los Angeles, management optimization consulting and training firm.
# # #