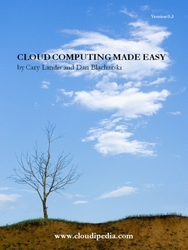 "The cloud identity crisis is fueling a love-hate war between big software companies and Salesforce"
(PRWEB) January 11, 2011
The editors of Cloudipedia made a number of bold yet accurate predictions last year about the future of cloud. 2011, the editors say, will be the year to either make friends or enemies with Salesforce.com.
Among the predictions last year: that infrastructure would commoditize and prices would fall, open standards would become a driving force, mega-million dollar enterprise software projects would dwindle, and that big-name companies would struggle for new identities.
Just one year later, Amazon, dropped by a whopping 19 percent some of the costs of its Amazon Web Services (AWS) and OpenStack is now free, making it easy for data centers to now provide cloud services in the pursuit of virtualization (although leaving them in an obvious conundrum: differentiate, consolidate or die). Further, the emergence of open standards as the underlying force in cloud platforms has been bolstered with the advancement of the Chief Information Officers (CIO) Council's FedRAMP initiative, NIST's Standards Acceleration to Jumpstart Adoption of Cloud Computing (SAJACC) initiative and NASA's Nebula OpenStack initiative. And, many big-name companies including the likes of Microsoft are struggling for new identities in the cloud as predicted last year.
The cloud identity crisis is fueling a love-hate war with Salesforce, which – at the chagrin of the big software developers – offers its proprietary platform-as-a-service (PaaS) to equip developers with online tools for quickly building and deploying software on the cloud. In doing so, Salesforce is spawning a new wave of entrepreneurship – and with less innate, dotcom boom-like technological wizardry required – and culminated with an infiltration of new applications and services.
The problem for big-name companies is that Salesforce is unseating Microsoft and Google as platforms-of-choice for business systems. "On the desktop, the platform war was won by making it easy for developers to create, and that's exactly what Salesforce is doing on the cloud," says Cary Landis, Virtual Global CEO and contributing Cloudipedia editor. Virtual Global offers an open alterative PaaS named TeamHost™, which Landis hopes will gain a development following as developers become frustrated with the lock-in to Salesforce's infrastructure. "It's fun to watch," jokes Landis, "In a humorous way it feels like Apple vs. Windows out there again."
As for the prediction of dwindling mega-million dollar projects, 2011 has kicked off with the Federal government's new 'Cloud First' policy, which suggests that federal users justify long-term IT projects to build ground up stovepipes. The CIO's reformation report criticized projects that take months or years to deliver initial results and calls for a move to cloud technologies as a solution.
Landis suggests that the future holds a continuation of these trends, with one noteworthy addition: that the aforementioned Salesforce.com will soon become too powerful to ignore.
"It is our prediction that IBM, Oracle, SAP and many newcomers from within and outside the United States will seek out strategies to disarm salesforce.com, which is truly disrupting the software industry," said Landis. "We view PaaS offerings like Salesforce and TeamHost, in many ways, the same way we view the power of the cloud; which was summed up nicely by (comedian) Steve Martin. On being noticed, he once said: 'Be so great, that no one can ignore you.' That's what platform-as-a-service is all about."
About Cloudipedia
Cloudipedia offers news and resources related to cloud computing. It features a free downloadable ebook "Cloud Computing Made Easy" by Dan Blacharski and Cary Landis, which is aimed at cloud computing novices. The website follows news related to cloud computing software, platforms and infrastructure as a service. For more information, visit http://www.cloudipedia.com.
# # #