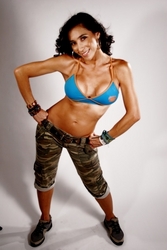 It really seems to be 'love at first shake' for everyone who experiences SambaBody
Los Angeles (Vocus) March 2, 2009
Keeping fit once meant tedious workouts and forced resolutions to stay on unappealing programs. Those days are over now with the launch Monday, March 2 of SambaBody, a complete workout regimen driven by the seductive rhythms of the famous Brazilian beat.
Created by professional "sambista" Fransini Giraldo, a highly skilled instructor and sought-after performer, the DVD, developed in partnership with @Media Group, features multiple levels of instruction including step break-downs, a full workout and even performance segments that not only provide an awesome workout, but can teach anyone how to dance samba. Priced at just $19.99 the DVD is available in both English and Spanish language versions.
Available now at http://www.sambabody.com, SambaBody is designed to give a complete body workout, including torso, legs and especially the "bunda" (Portuguese for rear-end). Other benefits include overall strength and definition, improved posture and excellent cardio benefits from the high-energy workout. And of course, there is the appeal of dancing and moving to highly seductive rhythms instead of the mundane routine of treadmills and machines.
In developing the SambaBody workout, Fransini sought to provide an entertaining, high-energy program that was easy to learn and provided immediate benefits. She was careful to incorporate her vast knowledge of the intricate movements, music, culture and colorful pageantry that comprise Samba.
"It really seems to be 'love at first shake' for everyone who experiences SambaBody," says Fransini. "Besides the workout, they love the choreographed movements, rhythm and joy of the music." An added extra is given the current economy, the SambaBody DVD is a very economical alternative to expensive gyms, while also being the perfect solution for busy individuals interested in grabbing a quick workout they can fit in their schedules.
Fransini brings a world of dance experience to the SambaBody DVD. She has delighted audiences and inspired students in studios, stages and clubs in places as far flung as the Caribbean, South America and Los Angeles, where she now lives and works.
A native of Colombia who moved to the U.S. 15 years ago looking to fulfill her dream of becoming a professional dancer, choreographer and instructor, Fransini is now living that aspiration to the fullest. She now works with multiple dance companies, shows and studios, in addition to doing TV segments and special exhibitions for organizations like Zumba Fitness and the California Milk Processors Board "Got Milk?" campaign promoting a healthier lifestyle through dance, exercise and better diet.
She also possesses an extensive academic health background that includes Interdisciplinary Studies in Kinesiology, Health Sciences and Translation at California State University in Long Beach. For more information visit: http://www.sambabody.com or http://www.youtube.com/sambabody.
Media Contact:
Karin Olsen
AMAZONpr
310-497-0052
karin (at) amazonpr (dot) com
# # #