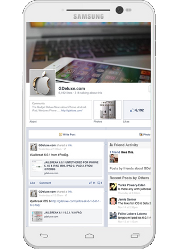 At Before You Buy UK Ltd, we are focused on , 'Bringing out the real-deal on the Smart Phones to our customers, every single time.
Gainsborough, Lincolnshire (PRWEB UK) 19 March 2013
The battle for Smart phones is getting intense by the day. The top guns are blazing and there is a X, Y and Z-axis expansion of the market segment. The product life cycles are getting shorter and new launches seem to be the order of the day for survival. Apple's single-brand domination is now fairly and squarely challenges by the likes of Samsung, HTC and Sony. While the niche brands, the Blackberry and Nokia struggle to make a cut, counting the out just as yet would require a brave analyst.
Riding on the immense success and high numbers driven by the Samsung Galaxy S3, the Korean major has decided to give its flagship high-end smart phone offering an all new look. Announcing the Samsung Galaxy S4, it clearly has sent signals to the market that it is not content with just 'Growth' and is aiming for dominance. Going by the initial reactions, (like those for the Galaxy S3 series), Critics are not too impressed by the Galaxy S4. But, there certainly is a substantial chunk of market out there ready to pay heed to Samsung.
"Premium launches of products have been a trend that has found many takers in the high-end Smart Phone industry, what remains to be seen is the quantum of sale, the brands are able to galvanize. In most of European regions, it is not the hype that gets translated into business, but pragmatic and prudent pricing strategies and contract features that gets the ball rolling. At Before You Buy UK Ltd we are focused on doing exactly that, 'Bringing out the real-deal on the Smart Phones to our customers, every single time." Mr. Joseph James, Director, Before You Buy Ltd.
In an intense market where the consumers are spoilt for choices, the accurate information gap is more pronounced than ever. To fill this void, Before You Buy UK Ltd bridges the gap by providing the users information across the spectrum. So, if Galaxy S4's reviews are enticing enough for you to opt for it, and the next step is to comparing the deals and best contract offers. A quick pit stop and snap at Before You Buy UK Ltd can add definite value to your quest for that perfect smart phone.
On the deals for Samsung Galaxy S4, Mr. Joseph James, Director, Before You Buy Ltd said, "Over the years, we've been really successful to get the best deals on brands under one roof. Our count of repeat visitors is growing exponentially. Galaxy S4 is a well thought out offering. It will surely create a stir before the iPhone5S or iPhone6 (whatever it may be called) when it would be launched later this year."
For more information and get notified when the deals on offer arrive please visit http://www.beforeyoubuy.co.uk/phone/compare-mobile-tariff/samsung-galaxy-s4.aspx. The organization also extends an invitation to visit its official Facebook page @ http://www.facebook.com/beforeyoubuyuk