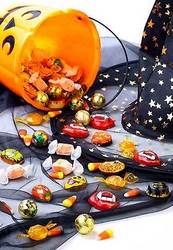 Let the kids have their Halloween fun. By planning and following some simple steps, parents can make sure the holiday isn't a setback for their dental health.
San Antonio, TX (PRWEB) October 22, 2010
There's an old joke that Halloween is a dentist's favorite holiday – it stirs up business. But in reality, no professional dentist wants see mounds of candy setting back his hard work in building his patients' beautiful smiles.
It might be simpler if our culture had never developed the annual ritual of giving children large amounts of free candy, but it's a fact of life. But, according to veteran San Antonio dentist Dr. John Moore, DDS, Halloween doesn't have to be a dental disaster. Here are 10 tips for parents who want to make it a tooth-friendly experience without dousing the fun for their kids:
1) Set rules early – When your children are finished trick-or-treating and bouncing with a bag of candy, it's going to be tough to discuss limits and rules for eating candy. Things are going to be much smoother if you have a sit-down before the big night – perhaps a day earlier - to discuss how the loot is going to be divided and doled out.
2) Screen the loot – Your Halloween ritual should include an end-of-night screening of goodies, not only for dental care, but for general safety. Make sure the candy is wrapped and there are no signs of tampering. This is a good chance to separate out candy that presents higher dangers to teeth. Make sure to get the screened candy out of the house. Take it to work, drop it off at a police station, or send it to the troops.
3) Control the candy – Even after screening, children shouldn't go on a binge with the sweets. Kids in a normal middle-class neighborhood can easily pull in several pounds or more of candy, and it's the job of parents to make sure it's doled out over a reasonable period of time. How much candy do you think your child should eat a day? Set a ration and stick to it . . . let the kids choose several candies at a set time every day; after school, after dinner, etc.
4) Soft and sticky – Gummy Bears, taffy, sticky caramels and similar candies stick between teeth and braces, allowing bacteria a nice long-term meal. Unless you are going to enforce strict post-chewing brushing with fluoride toothpaste and flossing, it's a good idea to pull this type of sweets from the candy pile right up front. Caramel and candy apples? Not if you want those fillings or sealants to stay in!
5) Hard candy – There are two ways to eat hard candy, and both are a danger to teeth. Sucking the candies provides a long exposure to the sugars that nourish cavity-causing bacteria. Worse is to crunch the candy, which may actually break fillings or teeth, or damage orthodontic work or sealants.
6) "Safe" candies – Soft, non-sticky candies, such as chocolates, M&Ms and peanut-butter are safest for teeth. And fortunately, they're likely the first targets for your kids' sweet tooth.
7) Set an example – The dirty little secret of Halloween is how much of the candy ends up inside the parents. Don't let your kids see or suspect that you're eating their stash without following your own rules.
8) Bait and switch -- If you follow the tips above, you're going to end up with a much smaller candy pot. Take the initiative and buy several bags of sugar-free candies to add to the pot, so it doesn't look so whittled down. You can also toss in non-candy treats, such as small toys, party favors, glow sticks, etc.
9) Gum for "dessert" – Sugar-free gum is recommended by the American Dental Association (and in some cases, carries a seal of approval). It can actually help counteract the sugar and stimulate saliva that keeps your mouth healthy. Give your kids an after-candy treat by giving them sugar-free gum.
10) Floss and brush – Your kids' candy treat should be followed by flossing and brushing with fluoride toothpaste.
"Let the kids have their Halloween fun," says Dr. Moore, a San Antonio Invisalign specialist. "By planning and following some simple steps, parents can make sure the holiday isn't a setback for their dental health."
Contact Information:
Dr. John Moore, DDS
Cosmetic Dental Associates
5837 Babcock Rd. San Antonio, TX 78240
Phone 210-337-6453
Dr. John Moore, DDS, has been a San Antonio cosmetic dentist for more than 25 years. His credits include serving as an assistant professor of dentistry at the University of Texas Health Science Center in San Antonio. He is a prolific lecturer and published writer, and has won numerous awards, including being voted into America's Top Dentists in Cosmetic Dentistry and honored as San Antonio's Top Dentist in Cosmetic Dentistry. He has been named an elite premiere provider of Invisalign braces, and has been honored for a pioneering method of combining Invisalign and veneers to treat extreme jaw and tooth alignment problems without surgery or years of braces.
###