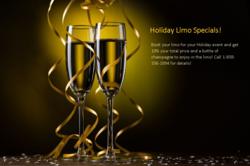 We will also be throwing in a bottle of champagne for guests to enjoy in the limo.
San Diego, CA (PRWEB) December 19, 2012
This time of year is full of office holiday parties, cheesy Christmas sweater parties, wine and cheese gift exchanges, cocktail parties, dinners and more. No matter what your holiday plans are this year, be sure to arrive safely and in style. Aall In Limo Service is offering 10 percent off to anyone who books a limo or town car for this year's holiday festivities, now through Jan. 1, 2012.
"We will also be throwing in a bottle of champagne for guests to enjoy in the limo," said Aall In Limo Service.
The San Diego limo company is a leading limo company in the area. As a family owned and operated company, the owner and staff take pride in the business and work hard to make sure their guests have a memorable experience every time.
According to Aall In Limo Service, they take special care to ensure their limos are clean and well stocked upon arrival. They also always show up on time, dressed to impress, and ready to show their guests a good time. The drivers are known to be friendly and very accommodating.
According to Tammy H., a new client who found Aall In Limo Service on Yelp, she was very impressed with the response time, price and service.
"Limo not only arrives on time, but early. Our driver was Mike and he was very nice and accommodating," she said in her Yelp review. "The limo was very clean, the sound system was great, and in all everyone was happy. Reservations were seamless, service was exceptional and the price could not be beat! I will definitely be using Mike and Aall In Limo Service again."
This year, hit your holiday party in style and at an affordable price. And, for New Year's, impress your date with a clean and stylish town car to pick you up and drop you off at your favorite restaurant or bar. Or, pile into a limo with a group of friends and hit Downtown San Diego for a fun and safe night out.
According to Aall In Limo Service, some of this year's hottest 2012 San Diego New Year's parties will be put on by House of Blues, Noble Experiment, Fluxx, Saltbox and Side Bar. And some of the best New Year's Eve dinners will be hosted by Burlap, Beaumont's, Searsucker and Croce's.
To book your 2012 holiday or New Year's Eve limo, contact Aall In Limo Service by calling 1-858-336-1894. Holiday specials include 10 percent off and a complimentary bottle of champagne.