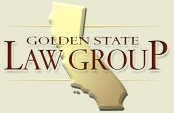 Mr. Weil earned this honor as a result of being nominated for a place on the list by professional peers...
(PRWEB) March 21, 2013
David Weil is a San Diego bankruptcy lawyer and a founding member of the Golden State Law Group. Mr. Weil represents both businesses and consumers needing help working through extreme financial difficulties. He and the firm have handled legal matters that relate to Chapters 7, 11 and 13 bankruptcy cases as well as helping clients deal with tax debt and personal injury matters. The firm would like to announce that Mr. Weil has been honored as one of San Diego's Top 25 Attorneys as overseen by SD Metro Magazine. Each member of the list appeared in the magazine's March of 2013 issue.
Mr. Weil earned this honor as a result of being nominated for a place on the list by professional peers that include judges, other attorneys, CPA's and members of the local business community. Mr. Weil joins 24 other attorneys in the area who were also honored, and those attorneys work in legal areas that are varied in nature. Mr. Weil himself works in the practice areas listed above as well as handling estate planning, probate, family law, personal injury and business litigation. In the past, Mr. Weil has handled contract negotiation on behalf of professional athletes.
Mr. Weil has primarily been handling bankruptcy cases for more than 37 years. Prior to his decades of service as a San Diego bankruptcy attorney, Mr. Weil earned his bachelor's degree from the University of California at Los Angeles in 1970 with a major of political science and an emphasis on international relations. He continued his education by earning his law degree from Southwestern University School of Law. He earned his license to practice law in the State of California in 1975, and has been helping people and businesses mired in serious financial difficulties ever since.
The attorneys, staff and team members at the Golden State Law Group would like to offer their individual and collective congratulations to Mr. Weil in recognition of earning this honor. The team at the Golden State Law Group would also like to congratulate the other 24 attorneys bestowed with this honor.
About the Golden State Law Group
The Golden State Law Group is a law firm in San Diego, California that's comprised of a team of San Diego bankruptcy attorneys who provide legal help to consumers and businesses. Specifically, the attorneys at the firm provide help to consumers in the legal areas relating to financial problems including student loan debt problems, credit card debt, medical bill issues, consumer bankruptcy, business bankruptcy, tax debt issues and personal injury cases.