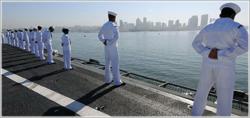 The San Diego military divorce lawyers at The Men's Legal Center encourage military personnel who may be experiencing family law problems to schedule a free initial consultation
San Diego, CA (PRWEB) November 02, 2012
The San Diego military divorce attorneys at The Men's Legal Center, Family Law Advocates®, a law firm, announces the firm is offering a waiver of their initial consultations for active duty military personnel who may be experiencing family law difficulties such as custody, visitation and support with regards to their spouses and children.
This free initial consultation offer comes as a response to the Department of Defense's news release indicating that since the beginning of the military actions in Afghanistan and Iraq in 2001, the military divorce rate has increased by a factor of about 40 percent in 2011 and is still increasing in 2012. Family law-related problems will increase as troops begin to come home from overseas deployment. Returning home, to California, for a married soldier means attempting to reunify with a spouse with whom they have not been living with. For those already separated, coming home means attempting to return to the pre-deployment child sharing arrangement and support level.
The Men's Legal Center is uniquely qualified to represent military personnel in family law matters of all types. Their managing attorney, Craig A. Candelore, has been practicing family law for more than 26 years. In addition, Attorney Candelore earned his Bachelor of Science from West Point before serving on active duty and the Reserves, ultimately earning the rank of Colonel from the United States Army. His active tours of duty include Operation Desert Storm and Operation Iraqi Freedom. Since 2008, he worked as a senior military police and an anti-terrorist officer. Attorney Candelore and his team have also organized, produced and given a MCLE accredited military divorce seminar.
The San Diego military divorce lawyers at The Men's Legal Center encourage military personnel who may be experiencing family law problems to schedule a free initial consultation before their problems become more severe. The firm will use this initial consultation to advise potential clients regarding their legal rights and options.
About the Men's Legal Center
The Men's Legal Center, Family Law Advocates® is a San Diego family law firm whose attorneys dedicate themselves to representing and fighting for the legal rights of husbands, fathers and noncustodial parents. The firm handles cases that include military divorce, California divorce, legal separation, property division, child support, spousal support, child custody, child visitation, child support modification and high asset divorces among many others.