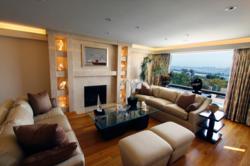 San Diego, CA (PRWEB) March 13, 2013
David Brandsen Construction is proud to announce that one of their projects is featured in a 10-page article in the March issue of San Diego Home and Garden Magazine. Published by McKinnon Publishing Company, the magazine boasts a monthly readership of 289,000 and has featured the best homes and gardens and outstanding remodels in San Diego County for more than 30 years.
The article features an impressive 2 million dollar remodel in La Playa which began in 2004, lasted two and a half years, and entailed six separate permits. The result was a truly breathtaking home that exudes quality of construction in every nook and cranny and takes full advantage of the awe-inspiring panoramic views overlooking the tranquil waters of San Diego Harbor and the remarkable city skyline.
Located on a prestigious cul-de-sac in the crown jewel of La Playa, the home features spectacular floating stairs in the entryway, a solid silicon bronze fireplace, creative use of slab granite and marble throughout the house, beautiful lush gardens, and huge picture windows and wide folding door systems that open the entire house up with 20-foot wide openings.
"Semi-exotic cabinet door and drawer fronts were shipped from a high-end custom veneer shop in Idaho co-owned by the owner of the property," describes builder David Brandsen. "Wide slat white oak wood floors, numerous patio and terrace areas, a sophisticated lighting control system, and an outdoor kitchen with its own dishwasher, sink, and refrigerator all added to the character of the house. The result is this amazing home in Point Loma with views normally reserved for hotels and resorts."
The house, located at 411 San Gorgonio, was one of the first houses built on Point Loma ridge in the early 1900s. The old house definitely needed a facelift, but that didn't stop owner, Sharon Zell, who was looking for a fixer upper with a magnificent view. She assembled her team which included builder David Brandsen and veteran architect Jack Wagenaar. Determined that the house would match her creative vision, no expense was spared.
"The project was completed with an open checkbook and a sincere love of building and designing," explains David. "Sharon is a designer and extremely knowledgeable about all phases of construction. Because she lived in Idaho the entire time of the project, most communication was done by phone, email, and photos. She would come and stay in town every couple of months and hang out and work with us on the project. Charming and delightful, she made everyone on the project feel like a friend."
Sharon also purchased the property next door, which she turned into a garden divided into 16 plots for friends and neighbors to use free of charge. The garden produces an amazing amount of fruits and vegetables and hundreds of pounds are donated to local homeless shelters to help out the community.
Check out the March issue of the San Diego Home Garden Magazine for more information about this stunning project. For more information about David Brandsen Construction, please call (619) 417-2228, visit their website http://www.davidbrandsen.com.
About David Brandsen Construction
David Brandsen Construction has over 20 years of custom home building experience. They are general contractors specializing in building large custom homes as well as customizing high end tract homes. With a goal to utilize sustainable building materials, they are skilled at remodeling, building room additions and designing extravagant patios while working with the latest technologies including whole house automation. David Brandsen Construction has a keen eye for detail, holds a high standard for quality and believes in consistent communication with their clients while on the job site. Their staff is skilled, dependable and knowledgeable. They serve San Diego, Chula Vista, Oceanside, La Jolla, Rancho Santa Fe, Point Loma and all of San Diego County.