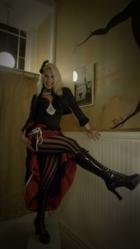 (Vocus/PRWEB) March 18, 2011
On March 19th at 7 PM, Swankety Swank, the San Francisco specialty store for environmentally-friendly gifts, hosts an art exhibition to commemorate its fourth anniversary at the store located at 289 Divisadero Street. The show will include artwork, film and photography, performance dance and fashions, all created with style and sustainability in mind.
Owner and Artist, Yabette Alfaro, along with Capricorn Framing Owner, Lloyd Haddad pay homage to woodworking with an exhibit that demonstrates an acute attention to detail only achieved through hand craftsmanship. The artists say the display intertwines the masculine and feminine elements of design.
The fourth anniversary art exhibition will also showcase the talents of Storm, the San Francisco-based creator of memoir fantasy comic book Princess WitchBoy, photography by Eartha Goodwin and local designers of environmentally friendly fashion in San Francisco. Miranda Carolinge, gibbous, Zunique, Ghetto Goldilocks, Yabette, and DAS+OWL will display their custom designs in the evening's fashion show.
Visitors can also catch local legend Fox Sophia performing a Butoh dance, a purely conceptual Japanese performance art characterized by a lack of set style. Sophia's special interest in the spiritual, nourishing aspects of performance dance has led her to dedicate her life to the pursuit, discovery, and embodiment of such arts and expression.
Sophia is an accomplished dancer, trained in the diverse arts of suspension, Butoh, modern dance, stilting acrobatics, Lyra trapeze, fire dance and burlesque. Fox Sophia is currently working on a new project with the San Francisco physical theater company, The Carpetbag Brigade.
Shop owner and artist Yabette Alfaro opened Swankety Swank to connect conscious consumers with local artists and designers. She says shopping local is good for the planet and the economy.
"I felt a deep sense of sadness when I realized that many of the things we fill our lives with are not good for the planet, and unlikely to last long enough to become a family heirloom," said Alfaro. So, she stocks her store with eclectic, fanciful, locally made fashions and furniture for shoppers who like to stand out.
For more information about the Swankety Swank Fourth Anniversary Art Show or to learn more about the shop's eco-friendly products call (415) 932-6615, visit their site at http://www.swanketyswank.com or drop by the store located at 289 Divisadero Street in San Francisco.
About Swankety Swank:
Swankety Swank is an artist retail co-op that specializes in sustainable furniture, home goods, clothing and accessories that are as beautiful as eco-friendly. The shop, located at 289 Divisidero Street in the Lower Haight, carries a selection of and environmentally friendly clothing that weaves expressive styles, vibrant colors, fine textiles, wispy feathers, sparkly stones, vintage lace, and antique fabrics with fine tuned technique and passion for hand-made goods.
The San Francisco boutique seeks masterful craftspersons that are highly-creative and thoughtful about designing products that our customers want and need. The shop offers customers a collection of environmentally-friendly furniture and up-cycles beautifully flawed, well made, pieces that can be readily transformed into one-of-a-kind art furniture.
# # #