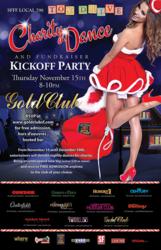 We are so fortunate to have been able to give back to the community over the years and this year we hope to break our record and give more than we ever have before
San Francisco, CA (PRWEB) November 13, 2012
The first choice of San Francisco adult entertainment, The Gold Club, is once again focusing on giving back to the community this holiday season. The Gold Club is launching the annual toy-drive and holiday fundraiser, benefitting the San Francisco Firefighters Toy Program Local 798 on Thursday, November 15, 2012 from 8 pm- 10 pm. Guests of the Gold Club and 10 other popular San Francisco gentlemen's clubs (listed below) who RSVP and donate an unwrapped toy valued at $20 or more will receive free admission every night from November 15- December 19. Hundreds of entertainers will also donate a $10 charity dance to take place each night, donated to the San Francisco Firefighters Toy Program Local 798. RSVP now by visiting the Gold Club's website here.
Participating San Francisco strip clubs include: Larry Flynt's Hustler Club, Penthouse Club and Steakhouse, Market Street Cinema, Hungry I, Little Darlings, Roaring 20's, Garden of Eden, Condor, New Century, Centerfolds and of course The Gold Club.
"We are so fortunate to have been able to give back to the community over the years and this year we hope to break our record and give more than we ever have before," said Axel Sang, marketing director of the Gold Club.
Last year, the San Francisco The Gold Club and 10 other San Francisco gentlemen's clubs raised a total of $20,000 and presented a check to the San Francisco Firefighters Toy Program Local 798 in addition to the thousands of donated toys. The gentlemen's clubs are one of the toy program's biggest fundraisers each year.
The Penthouse Club and Steakhouse will host the check presentation celebration and close of the 2012 toy-drive Wednesday, December 19 from 8-10pm.
For more information about the Gold Club's toy-drive or to make reservations, call the club at (415) 536-0300, or visit http://www.goldclubsf.com/blog/?p=1094 or come by the club, located at 650 Howard Street in downtown San Francisco—across the street from Moscone Center. Remember, each guest must RSVP as well as bring an unwrapped gift valued at $20 or more in order to receive free admission.
Gold Club's team encourages adults to like them on Facebook at facebook.com/goldclubsf, follow them on Twitter at @GoldClubSF, check out their video channel on YouTube at youtube.com/user/goldclubsanfrancisco, and read their reviews by Yelp reviewers at yelp.com/biz/gold-club-san-francisco.
About the Gold Club
The Gold Club, winner of SF Weekly's Best Strip Club honor 2 years running in 2011 and 2012, is a world-class gentlemen's club conveniently located in the heart of downtown San Francisco. With over 200 of the most erotic and exotic entertainers, a fine dining restaurant, five fully stocked bars and VIP skybox service, the Gold Club is San Francisco's premier erotic entertainment venue.
The Gold Club recognizes the value of customer satisfaction and consistently succeeds in supplying a highly entertaining and sensual experience to all guests. Outstanding special features include concierge services, champagne rooms, bottle service tables and booths, free secure WiFi access, limo services, and valet parking. The Gold Club is a popular destination for San Francisco bachelor parties, business meetings, or just a fun time out with friends in a comfortable, upscale environment.