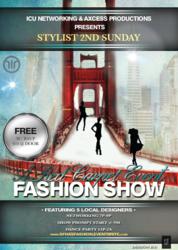 SF Has Fashion was created to prove that San Francisco has style and to bring like-minded people in the same fun space
San Francisco, CA (PRWEB) March 13, 2013
Zen Compound, home of Temple nightclub, recently opened its doors to hold a new and exciting event made to bring San Francisco's fashion figureheads, up-and-comers, visionaries, local brands and fashionistas together for an evening of entertainment and networking. SF Has Fashion will be hosted by Mr. USA 2012 Chavis Aaron. The event was held on Sunday, March 10 from 7 pm until 2 am.
"SF Has Fashion was created to prove that San Francisco has style and to bring like-minded people in the same fun space," said Bailey Greenwood of the Zen Compound. "San Francisco has such an eclectic sense of style and we hope to celebrate that and inspire further innovations."
The event opens with networking among the Bay Area's most fashion forward power players and just those who can't get enough. Free wine was poured courtesy of Hills Family Winery. Mixed drink specials were also be available all night.
SF Has Fashion was hosted by model/ actor and former Mr. USA Chavis Aaron. Aaron has appeared on Ugly Betty, The OWN Network, BET and has been featured in Bay Fashion magazine.
The fashion show began at 9 pm and will feature local designers Jennifer Schmidt Shelby Growchowsk, Bora Han and menswear designer Lukas Plato among others.
The fashion show is followed by a dance party in Temple's main room, The Shrine which went on until 2 am.
Fresh, delicious sushi and Japanese eats were enjoyed at San Francisco Sushi Restaurant Ki, Zen Compound's new Izakaya Bar just a few steps away from Temple.
For more information about the SF Has Fashion Event, Temple nightclub, or Temple Music Group, contact the San Francisco live music and event space call (415) 978-9943 or visit templesf.com and for reservations and bottle service inquires contact Natalie Borges at (415) 978-9943 extension 304.
About the Zen Compound
The Zen Compound is an entertainment complex housing Temple Nightclub, Ki Sushi, TMG Recording Studios, Temple TV and ZCFM Radio, all with a sustainable focus.
Temple Nightclub is one of the most popular San Francisco dance clubs. The San Francisco event space is a true architectural gem. Filled with original unique antiquities from Southeast Asia, Temple offers 20,000 square feet of space, which can accommodate 1,100 guests on two levels. The nightclub includes four beautiful rooms, each with its own unique atmosphere.