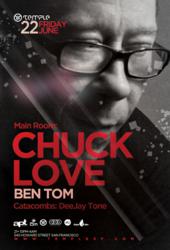 This is Chuck Love's first time at Temple in over two years
San Francisco, CA (PRWEB) June 16, 2012
San Francisco electro-house lovers, rejoice! Temple, the premier San Francisco nightclub, presents the multitalented Chuck Love on Friday, June 22 with Temple Music Group's own DJ Ben Tom kicking off the party at 10 pm and half-off bottle service
"This is Chuck Love's first time at Temple in over two years," said Natalie Borges, representative of Temple." This is a rare treat for anyone because he is so talented and energetic. He gives 100% to each show."
Hailing from Minneapolis, Chuck Love brings those soulful, jazzy inspirations to each exhilarating performance and appearance he makes across the country. Known for his "Live DJ/ Video" sets, Chuck Love serves up triple threat performances as a DJ, vocalist and multi- instrumentalist.
San Francisco and Temple Music Group's own Ben Tom kicks off the party on the main floor of Temple SF in SoMa with brilliant electro-house beats sure to pack to dance floor. Behind the decks, Ben moves seamlessly from soulful house to electro techno, weaving pop and hip-hop vocals over dance-inducing tracks that keep the crowd on the floor while fluidly crossing genres and flirting with unexpected sound combinations.
Temple Nightclub is now offering bottle service specials including buy one bottle, get the second free every Friday. College students get in free before midnight every Friday with student ID and valid identification of age.
Enjoy fresh, delicious sushi and Japanese eats at Ki, Zen Compound's new Izakaya Bar just a few steps away from Temple. Clubbers who dine at Ki and spend $25 or more will gain free access to Temple that night.
For more information about the Chuck Love and Ben Tom party, Temple nightclub, or Temple Music Group, contact the San Francisco live music and event space call (415) 978-9943 or visit templesf.com and for reservations and bottle service inquires contact Natalie Borges at (415) 978-9943 extension 304.
About the Zen Compound
The Zen Compound is an entertainment complex housing Temple Nightclub, Ki Sushi, TMG Recording Studios, Temple TV and ZCFM Radio, all with a sustainable focus.
Temple Nightclub is one of the most popular San Francisco dance clubs. The San Francisco event space is a true architectural gem. Filled with original unique antiquities from Southeast Asia, Temple offers 20,000 square feet of space, which can accommodate 1,100 guests on two levels. The nightclub includes four beautiful rooms, each with its own unique atmosphere.