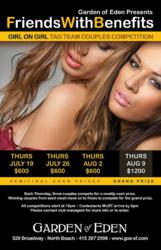 San Francisco, CA (PRWEB) July 17, 2012
Home of the best live nude shows San Francisco has to offer, Garden of Eden is bursting in anticipation over its first ever girl-on-girl live competition open to the public. Inspired by enthusiastic patrons taking it upon themselves to hop on stage and steal the show from the strippers, Friends with Benefits semifinals take place Thursday, July 19, July 26 and August 2, 2012 with cash prizes on the line each night. The grand prize of will be awarded to the hottest, most inventive and crowd pleasing couple on Thursday, August 9. Shows start at 10 pm each night.
Love girl-on-girl action? See the girl next door and her best friend (or lover) go at it for the title of the reigning Friends with Benefits. Ladies who love turning heads and making onlookers drool are exactly what this competition calls for. Judges are looking for routine originality, crowd engagement and of course, sex appeal.
The Friends with Benefits competition offers something for everyone. Guests get the chance to see ladies put on original, never-before-seen, tag team, girl-on-girl strip shows and ladies who've fantasized about being the star of the show now have their chance.
Ladies are encouraged to craft original costumes, choreograph routines, come up with new ways to engage the crowd and do whatever it takes to stand out.
Admission is free for all participants of Friends with Benefits and $20 for guests. Text GOE to 35350 or print out the flyer for other discounts and specials.
For more information about the Garden of Eden's "Friends with Benefits" competition, call (415) 397-2596, visit http://www.goe-sf.com or go to 529 Broadway Avenue in the North Beach neighborhood of San Francisco, California.
About Garden of Eden
Strip club Garden of Eden presents the best in San Francisco fully nude adult entertainment. Reservations are available every day. Garden of Eden provides an intimate setting but also accommodates large parties and is perfect for bachelor and bachelorette parties. Ask about specials for large parties, VIP booths, intimate VIP tables and private rooms are available for San Francisco private dances. The Garden of Eden also has a well stocked full non-alcoholic bar