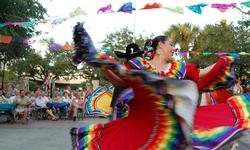 Convention and meeting planners constantly tell us that their clients not only enjoy NIOSITAs because they are so genuinely San Antonio, but are pleased that the proceeds raised go straight to preservation efforts in San Antonio and central Texas.
San Antonio, TX (Vocus) March 2, 2010
La Villita, the five-acre historic village along the banks of the San Antonio River, is undergoing a $1.8 million restoration. The project includes work to eight historic buildings, upgrades to public restrooms and two plazas, and is scheduled to be complete in mid-April 2010.
As San Antonio's first neighborhood, La Villita once housed Spanish soldiers who were stationed at Mission San Antonio Valero (the Alamo), and was established on the National Register of Historic Places in 1972. Now an art community that includes shops, plazas and restaurants, it is the focal point of many local festivals.
One of the most popular festivals held in La Villita is "A Night In Old San Antonio®" (NIOSA®)—a four-night festival sponsored by the San Antonio Conservation Society during San Antonio's city-wide Fiesta celebration every April. NIOSA involves more than 16,000 volunteers, 250 food and drink booths, and 80,000 revelers, and is considered to be one of the largest fundraisers for historic preservation in the country.
For the past 50 years, the Conservation Society has also staged NIOSITAs (private, mini-NIOSAs) in La Villita's historic plazas for conventions, meetings, and festivals—for groups of 500 and up—to raise additional funds. In fact, the Conservation Society was the first organization in San Antonio to produce these outdoor festivals for private groups, truly establishing NIOSA as the premiere caterer of "fiestas." The first NIOSITA was held in 1960 after the red-carpet premiere of The Alamo movie starring John Wayne and Richard Widmark (both who attended the NIOSITA).
Just as NIOSA commemorates the ethnic and cultural influences of San Antonio with food and entertainment, the NIOSITAs reflect the diverse cultures of San Antonio. Cuisine at a NIOSITA is pure Texas with an all-Mexican menu including favorites such as chicken and beef fajitas, chalupas, tamales and chili, Maria's Tortillas, and Mexican pastries. Guests will arrive to the sounds of strumming guitars, shining horns and the voices of mariachis playing their lively music, with a confetti greeting as they enter the decorated plaza. The music selection includes Mexican style or good old country-western music. Menus can be customized to each group, and all items are prepared fresh and served continuously by Conservation Society volunteers from brightly decorated carts and booths. The Society only produces NIOSITAs in the buildings and plazas of La Villita.
"Convention and meeting planners constantly tell us that their clients not only enjoy NIOSITAs because they are so genuinely San Antonio, but are pleased that the proceeds raised goes straight to preservation efforts in San Antonio and central Texas," says Nancy Avellar, San Antonio Conservation Society Fourth Vice President (and NIOSA and NIOSITA chairman). "We are so pleased that the City of San Antonio will complete this restoration project in time for our 62nd presentation of NIOSA from April 20-23, and the upcoming NIOSITA for the League of Historic American Theatres."
NIOSA proceeds directly benefit La Villita annually via a special fund set up as part of the contract between the City of San Antonio and the San Antonio Conservation Society when it leases La Villita, a city-owned property. Dollars from this "La Villita and HemisFair Park Historic Districts Preservation Projects" fund are available for restoration projects in La Villita and HemisFair Park. Since the fund was created in 2000, more than $500,000 has been designated for these projects that all San Antonians and visitors enjoy, including improvements on these properties in La Villita: Bolivar Hall, Juarez Plaza, Maverick Plaza Fountain, Maverick Plaza tree planters, Cos House, McAllister building, Maverick Plaza lighting, Dugosh and Tynan Bldgs., and Arneson Theater stage house roof.
"The San Antonio Conservation Society is a great partner with the City of San Antonio in assisting and advocating for an historic asset," says Paula X. Stallcup, Director of Downtown Operations, City of San Antonio.
Additional examples of just a few of the Conservation Society's efforts since the mid-1920s to preserve the city's historic landmarks and traditions include:

acts that led to the eventual preservation of the city's beloved Missions
the purchase of many significant buildings to save them from demolition, including the old Ursuline Academy (now the Southwest School of Art & Craft) and the Aztec Theatre
bestowment of bricks and mortar grants, cultural/educational grants and scholarships totally hundreds of thousands of dollars annually
the record breaking historic move of the Fairmount Hotel through downtown
preservation of the cultural events of Las Posadas and Los Pastores
providing buses, guides and teachers' curriculum for the tour of San Antonio's most historic sites for nearly 3,000 fourth graders annually for 10+ areas schools
sponsoring community education programs focused on various topics including historic tax credits, building green, adaptive use and historic home maintenance
More information on NIOSITAs can be obtained by visiting http://www.niosa.org/NIOSITA.htm or by contacting the NIOSA office at (210) 226-5188 or niosa@niosa.org.
###