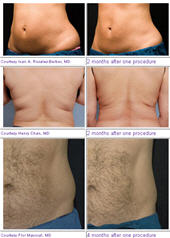 We're taking an extra step with healthy weight affirmation audio and a post treatment guide to help flush the system
La Jolla, California (PRWEB) December 02, 2011
Fat fighting is common in this country. Dieting and exercise are the two most effective means to long term weight loss and trim body contours. But what about those who are within normal weight limits who still have stubborn fat areas that simply defy all reasonable efforts?
CoolSculpting employs a novel technology called cryolipolysis, which actually crystallizes fat cells by reducing the temperature of the cells themselves. Crystallization causes destruction of the fat cell and the body then carries it away.
La Jolla Cosmetic Laser Clinic has consistent success with body contouring, noted by their 6 year running top Thermage awards for skin tightening. Attention to detail and using energy levels that work have gained the practice this singular accomplishment in San Diego County. Bringing in the power of "fat freezing" is the added touch many patients need to get rid of love handles, a muffin top or back fat.
The clinic goes beyond most other practices in counseling patients on how to assist the body in the process of the fat elimination as well as offering an optional auditory message listened to while undergoing treatment. The CD reinforces good dietary and eating habits with positive affirmations.
La Jolla Laser Clinic proudly claims an expert team of medical staff, supervised by an onsite physician 6 days a week. All treatments are performed by either a physician, registered nurse or physician assistant to assure patients of optimally trained providers.
What CoolSculpting is Not...
CoolSculpting is not a weight control or weight loss program and should not be seen as a way to lose overall body weight. Successful patients are those of normal weight who have specific fatty areas.
The clinic offers complimentary assessments to determine if CoolSculpting will be appropriate.
La Jolla Cosmetic Laser Clinic is located in downtown La Jolla, California. The practice was founded by Nasrin Mani, M.D., a Board Certified Ophthalmologic and Laser Surgeon who has been selected in the past two years as a Top Doc in San Diego and also as one of America's Top Docs. The clinic physician staff also includes Jasmine McLeod, M.D. who has over 20 years' background in medical and cosmetic dermatology. (858) 410-0330
###