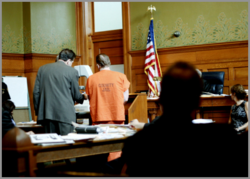 You should not leave anything to chance.
San Antonio, TX (PRWEB) January 19, 2013
When a person has been charged with a DWI, assault or even worse, it can be an extremely scary and confusing situation. In these circumstances, having the proper representation from a qualified attorney in San Antonio can mean the difference between jail time and freedom.
For more than 10 years, people throughout San Antonio and Bexar County have been turning to the experts at Law Offices of Jesus R. Lopez to gain the personalized, professional legal services they need. And now, the law firm has made it even simpler for people to quickly find the legal information they require.
San Antonio Criminal Defense Attorney and Law Firm, Law Offices of Jesus R. Lopez, has just launched their new website. Whether looking for legal representation or legal advice, site visitors can find a wide range of detailed law-related information. The new site discusses the law firm's array of legal services and specializations, including DUI and DWI, assault and battery, armed robbery, domestic violence, traffic citations, bail bonds, and more.
In order to receive the optimal outcome in a legal proceeding, it is essential for a person to understand their rights and the proper way to handle their individual situation. In most cases, the best way to ensure this happens is to secure an experienced criminal defense lawyer.
According to Law Offices of Jesus R. Lopez, "Often times, the difference between a dropped charge, a long sentence or a shortened sentence is the quality of your representation. Having a skilled, knowledgeable, top-of-the-line attorney will give you the best chance throughout the entire process. During such an important time in your life, you should not leave anything to chance."
Jesus R. Lopez believes that the legal system should never take advantage of anyone. His ardent defense of his client's legal rights has resulted in numerous mistrials and acquittals. Jesus R. Lopez earned a degree in economics from Baylor University before continuing on to law school, and his background in business and mathematics has enabled him to personally evaluate scientific and forensic evidence in DWI and criminal cases. As a result, he has successfully represented thousands of individuals in cases ranging from DWI arrests to homicide.
Jesus R. Lopez and the rest of the legal team at Law Offices of Jesus R. Lopez, have the knowledge and the experience that it takes to represent clients in a wide range of different cases. The firm represents individuals who have been accused of almost any criminal offense.
Anyone looking for a criminal defense attorney in San Antonio can visit the law firm's new site for detailed information at http://www.sanantoniocriminaldefenseattorney.com
The Law Offices of Jesus R. Lopez is a criminal defense trial firm located in San Antonio, Texas. The firm handles criminal defense cases all throughout the state of Texas in both state and federal courts. In addition to criminal defense, the firm also provides San Antonio bail bonds. The firm is known for its litigation of both felony and misdemeanor cases and for "out of the box" thinking. Jesus R. Lopez, the firm's founder, is a member of the Texas Bar and is licensed to practice in the state of Texas and the federal courts for the Western District of Texas.
For more information about Jesus R. Lopez or the Law Offices of Jesus R. Lopez contact Tammy Koock, legal assistant at 210.224.5245 or visit http://www.sanantoniobonds.com.