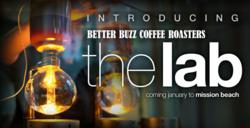 San Diego has never seen coffee like this before.
San Diego, CA (PRWEB) December 06, 2012
Social media and news-feeds have been buzzing with sneak peeks and teasing glimpses into the coffee house's forthcoming grand opening. Better Buzz Coffee has the strongest local social media following of any coffee house in San Diego, even managing to beat out the resident big name coffee corporations with happily buzzed customers excited to share photos of how they get buzzed. Friday's big announcement is no exception, being shared (and re-shared) across all platforms.
The café will look like a turn of the century chemistry lab with an ambient reclaimed wood interior, custom giant cold brew funnels found nowhere else in the country, and glass orb siphons with their ambient glows signifying gourmet coffee brewing reactions.
The Lab will boast an exclusive menu of all their most popular items including their signature drink, "The Best Drink Ever," but will also feature new items that will excite any new or experienced buzzers palate. This menu, christened "The Purist" will offer coffee delicacies found nowhere else in the state. While the actual drinks on the menu are still under wraps, it is reported to offer a delicious variety of limited single origin coffees, smooth cold brews, and single cup pour overs. All these in traditional Italian cupped beverages, using nothing but organic milk. What makes Better Buzz Coffee Roasters the best coffee in San Diego is also what is predicted to make The Lab the turn of the century in the coffee industry.
When a coffee roaster selects whole bean coffee to roast, two of the choices are Arabica and Robusta Coffees. Arabica Coffee is more expensive to grow, but is the only variety that produces the top grade picks of beans. Robusta is, well, everything else. Though San Diego is the nation's 4th largest consumer of coffee, it has for years been subject to the unfortunately bad coffee practices of corporate coffee giants.
The owners at Better Buzz Coffee see that San Diegans are finding how rewarding good coffee can be. The company's success is a testimonial to that. Better Buzz keeps raising the bar, and San Diego keeps embracing it more and more. Not only does Better Buzz only ever use premium Arabica coffees, it offers organic, fair trade, and rainforest alliance coffees found nowhere else in San Diego. What's more, they are unique believers in the quality-assurance power or roasting and cupping all of its own coffee. "Cupping" means they sit down with every new coffee they get in and painstakingly evaluate it for flavor and quality characteristics. No detail is spared, and nothing is compromised.
The experience of The Lab will be entirely unprecedented in San Diego because it will be just that: an experience. This is not your average specialty coffee shop. This is a headfirst immersion into the handcrafted chemistry behind coffee. It embraces the idea that coffee offers a rich myriad of possibilities and taste profiles, where the artful process of creating it is just as mystifying as drinking it.
Get the latest updates on The Lab's grand opening by following @BBCTheLab and learn more on their website, http://www.lifesbetterbuzzed.com.