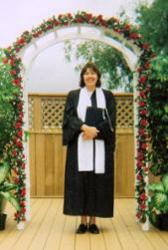 Santa Barbara, CA (PRWEB) June 07, 2013
Their concept is the same as in Hawaii. They provide easy to understand wedding packages that are fairly priced and are now being offered in Santa Barbara CA. The success of weddings in Hawaii has former Santa Barbara resident and President of Maui'd Forever Mark Steffan offering similar services on the mainland. He is now spending more time back in his former home territory it only made sense to expand the business there.
In a recent interview Mr. Steffan says "It is pretty much the same concept of what we do in Hawaii. We are offering easy to understand wedding packages in Southern California. The client picks a wedding package, time, location and wedding vendors."
They have just added a Minister to their vendor list in Santa Barbara. Gail Kelley Murray is now available to officiate weddings within the Maui'd Forever wedding packages. She offers a personal touch. Each couple is different with unique tastes and preferences for their wedding. She will work with clients to make their wedding ceremony the one they have always dreamed of. She has a Catholic background and can speak German (and a little Spanish). She has performed hundreds of weddings in and around Santa Barbara, Ventura and Santa Maria for over a decade.
Their Santa Barbara packages just like in Hawaii start at $299. The website allows the client to preview locations and pick from a variety of ministers, photographers, videographers and all else that is needed. They do have caterers available and wedding reception options but their specialty is the wedding itself.
Wedding locations in Santa Barbara include the many beautiful beaches, the Mission, the dramatic Courthouse lawn and a variety of parks. Just like in Hawaii sunset is the most popular time for the wedding.
Santa Barbara like Hawaii hosts a lot of weddings. Most weddings are for locals although it is a destination wedding location for those traveling from Los Angeles and other Southern California locations. Often called the American Riviera, Santa Barbara is a natural for a destination wedding.
Mr. Steffan grew up in Santa Barbara prior to moving to Hawaii and knows the area and the people. In that same interview he said that "Santa Barbara has that similar spiritual feeling to Hawaii". He also wanted to let people know that since one of the best photography schools in the nation, Brooks Institute of Photography is located there, a great selection of high quality photographers and videographers exist for the clients choosing.