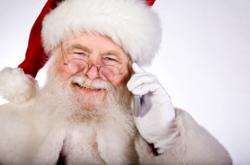 Jupiter, FL (PRWEB) November 28, 2012
Spread cheer this holiday season by sending children all across the United States free Santa calls. DialMyCalls has teamed up with Santa Claus for the second year in a row in order to send out thousands of personalized greetings from good old Saint Nick.
Last year the local Jupiter, Florida voice broadcasting company decided to give back to the community by offering free personalized calls from Santa Claus. Parents all across the country quickly discovered the amazing service and were thrilled at the joy it brought children who received a call from the North Pole.
DialMyCalls has started its Santa calling event early for the 2012 Christmas season which means Santa Claus will begin calling children on December 1, 2012. Parents can sign up for a free account today and once logged in the magic will officially begin to unfold.
The company has compiled a list of kids names that Santa Claus will personally call when he begins making his rounds on December 1, 2012. Don't worry though, if a child's name does not appear on DialMyCalls' list, free Santa calls are still available for everyone.
"Last year parents and kids absolutely loved our personalized Christmas greetings from Santa Claus so it was a no-brainer when deciding if we should bring them back again for Christmas 2012," says owner David Batchelor. "We hope that this holiday season we will surpass the 30,000+ Santa calls that we sent out last year!"
Help celebrate Christmas 2012 by setting up a personalized call from Santa Claus for children all across the country – help DialMyCalls pread some holiday cheer this winter.
About DialMyCalls
DialMyCalls.com was founded in 2006 and continues to maintain its reputation as one of the most efficient and easy to use services in the voice broadcasting industry. The popularity of their free personalized greetings from Santa Claus has launched a brand new tradition for the company – every years kids all across the United States can look forward to receiving free Santa Calls from the North Pole.
For more information, please visit http://www.dialmycalls.com or call 800.928.2086. You can also email tims(at)ontimetelecom(dot)com for additional information.
# # #