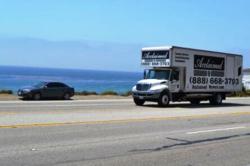 Santa Monica, CA (PRWEB) November 03, 2012
A recent report from the U.S. Department of Labor has shown a shift in migration, with an increase in residents coming in to Southern California from the East Coast. In the last year the economy has been seeing a slow but steady recovery, and the influx in people moving to Southern California that has spilled over to Santa Monica is a positive sign of economic growth. In 2010 Santa Monica saw a population increase of 6.7%, the highest it's been since 1960. To better accommodate the dynamic economy of Southern California Acclaimed Santa Monica Movers have picked up four new full size moving trucks, effectively expanding their interstate moving services from LA to New York and the rest of the country.
Departments within the city of Santa Monica had made special efforts to close the budget gap, and a recent annual report showed that the city managed to save almost $5 million of the budget for the year. This massively effective budgeting is part of the changing tide for Santa Monica's economy. The surplus in this year's budget is a combination of lowered costs as well as a higher than expected citywide revenue. The staff at Acclaimed has done their part in trying to better accommodate the needs of the economy by adding four 53-foot interstate moving trucks to their fleet. These biodiesel-powered moving trucks are capable of local, long distance, and interstate moves and open up new avenues for the Southern California moving company. The management team at Acclaimed has been making efforts to expand the services of Acclaimed for years and have shaped their decisions around the demands of the market. The company tailors its service case-by-case to each individual move they undergo.
Economic recovery is going to take time, but there is a light at the end of the tunnel. The surge in migration pays forward to the moving industry, which in turn contributes to the job market and public spending. The recent growth of the Acclaimed Santa Monica Movers fleet is a symbol of the economic recovery ahead.