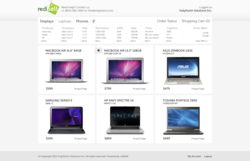 Lake Forest, CA (PRWEB) June 28, 2012
IndyDutch Solutions has recently announced the release of a new online demo for their eCommerce solution, rediSell, now available at http://www.redisell.com. This rediSell demo features a brand new design and enhanced search functionality, as well as a fully integrated customer portal solution, rediPortal. These new features give SAP Business One users the ability to provide the best of breed online customer service with rediSell eCommerce.
As a secure eCommerce and intuitive customer portal solution, rediSell, along with the rediPortal extension, gives customers the ability to browse inventory, place orders, and access account history information around the clock. rediSell users that utilize the new website design features and customer portal integration will distinctly separate themselves from their competition through a robust eCommerce site. Despite rediSell being a fully featured eCommerce solution, it is incredibly user-friendly and easy to manage with new administration features that make web store management easier than ever before.
rediSell: eCommerce
rediSell is a fully featured B2B eCommerce solution that provides customer specific catalog & pricing, customer specific checkout, custom site & store design, credit card processing, shipping system integration, and many other valuable features that all seamlessly integrate with SAP Business One systems. With the ability to support multiple languages, rediSell can be conveniently deployed around the world.
rediSell: Customer Portal Extension
rediPortal is now offered as a fully integrated customer portal extension for rediSell, allowing SAP Business One users to provide their customers with 24/7 secure online access to transactional data, such as order status, shipment information, invoices, payments, credit memos and account summaries.
rediSell: New Design Features
The rediSell team works alongside rediSell users to create a unique design for each eCommerce site. Unlike most eCommerce products, rediSell is not restricted to preset templates, which gives its users the opportunity to freely design their web store to match company branding.
For more information about rediSell, call IndyDutch Solutions at +1 (800) 385-5814 or visit us at http://www.redisell.com
About IndyDutch Solutions
IndyDutch Solutions improves and expedites small business processes by specializing in software consulting and software development for SAP Business One systems. The IndyDutch Solutions team has been working with SAP Business One solution since the time it was launched. IndyDutch specializes in SAP Business One implementation and optimization, offers several Add-On Solutions for SAP Business One, and is well-known for their honesty, integrity, and commitment to delivering value in the SAP Business One customer community.
To learn more about IndyDutch, visit http://www.indydutch.com
SAP Business One™ is a trademark of SAP AG. IndyDutch Solutions and IndyDutch products are not endorsed by or affiliated with SAP AG.