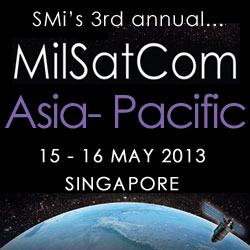 London (PRWEB UK) 26 March 2013
According to PR Newswire, The Global Military Satellites Market 2012-2022 report states that the global military satellite market was valued at US$11.8 billion in 2012, and is expected to reach US$17.3 billion by 2022. The report also states that the Military Satellite market is expected to grow at a CAGR of 3.4% in the Asia-Pacific region.
You will be able to discuss the recent findings with industry experts and hear about the latest developments taking place at the 3rd annual MilSatCom Asia-Pacific conference and exhibition. MilSatCom Asia-Pacific is the largest event within the APAC region to bring together a line-up of leading experts within the SatCom field. You will be able to hear key presentations on Military and Civil SatCom requirements in Asia, Next generation SatCom, The development of SatCom in Asia, SATCOM as an enabler for force transformation, SatCom on the move, C4ISR plus much more.
Featured speaker presentations include:

Commodore Roger Boyce, Director General ICT Policy and Plans, Department of Defence, Australia
Colonel Mark Patterson, J6 Division Chief, USPACOM
Lieutenant Colonel James Dryburgh, JS01 CIS J6, NZDF
Lieutenant Commander Salvador Sambalilo, Naval Communications Electronics and Information Systems Center, Philippine Navy
Dr Pham Anh Tuan, Director, Vietnam National Satellite Centre
Inspector General of Police Ghulam Shabir Sheikh, Counter Terror Wing, Pakistan Police Force
There will also be a pre-conference workshop hosted by GVF: Satellite & Satellite-Hybrid Communications Networking Capability and Civil-Military Inter-Agency Collaboration. Places are limited so anyone interested is advised to register early to secure their place.
For companies wishing to attend please visit http://www.milsatcomasia.com to register or contact James Hitchen on: +44 (0) 207 827 6054 or email jhitchen(at)smi-online(dot)co(dot)uk
---------ENDS-------
About SMi Group
The SMi Group is a highly professional, independent and global event-production company that specializes in Business-to-Business Conferences, Workshops and Masterclasses, and online Communities. The SMi Group creates and delivers events in the Defence, Security, Energy, Utilities, Finance and Pharmaceutical industries. For more information, please visit http://www.smi-online.co.uk