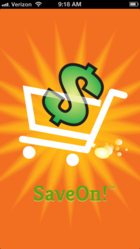 SaveOn! helps shoppers save money on the brands they love at the stores they like to visit.
Philadelphia, PA (PRWEB) March 28, 2013
Available today, SaveOn! is the first app to give shoppers a simple and easy-to-use way to save money on groceries. Only SaveOn!TM takes a shopper's grocery list and finds the lowest available prices including store specials and coupons at their favorite stores for the brands they love. Using SaveOn! a typical shopper can save up to 65% on their groceries!
Groceries are one of the largest budget items for any family. On average, U.S. households spend $10,000 per year on groceries. If a family were spending this much money on any other purchase (like a car or a TV) they would have many resources at their disposal to help them find the best products at the best prices. But there are no tools to help shoppers get the best prices on groceries!
In a grocery store or supermarket the challenges and information facing the shopper are formidable. According to the Food Marketing Institute, the typical store carries over 38,000 items and weekly about 5-10% of these items are on sale. Shoppers receive store sale circulars in the mail every week and each circular has 2,000 – 3,000 individual products on sale. If that shopper receives circulars from four stores that is 8,000 – 12,000 items! Retailers have widely varying pricing strategies that make for large every day and promotional price differences on individual items.
And then there are the coupons! Each year 335 billion coupons are delivered to consumers via so-called free standing coupon inserts and millions more are available online at various couponing websites. But consumers argue, "who has the time" to dig through the over 150+ coupons delivered weekly to homes across the U.S.?
Most importantly, brand marketers spend over $200 billion each year to put their products on sale and entice consumers to purchase. Coupon spending is dwarfed by this at only $4 billion. So understanding where the lowest price is will ultimately have the greatest impact for shoppers. To find the lowest basket price a shopper would have to first go store to store writing down all the prices and product options, and then collect all the offers and coupons and then try to figure out where the cheapest basket would be.
It is virtually impossible for the shopper to figure out which store has the best prices on a basket of groceries. Until Now.
SaveOn!TM shoppers simply make their grocery list and tell us where they like to shop. The SaveOn! app finds the lowest available prices for each item on their list including store specials, coupons, and frequent shopper discounts. The app tells shoppers where to shop and what to buy to save the most money.
SaveOn! is FREE! and available now for download on the iTunes store. Store data is limited at present to the Philadelphia suburbs of King of Prussia, West Chester and Warrington and store chains Acme, ShopRite and Wegmans – though more are coming soon. An Android smartphone version is in the works for a future launch and the company is considering the Microsoft smartphone platform too.
Co-Founder and CEO Aaron L. Wadell stated, "It is truly incredible how confusing and difficult it is for Shoppers to get the best prices on the brands they want at their favorite stores. We want to change that. Our vision is to help millions of recession weary consumers save money on groceries with SaveOn!. SaveOn! is unique in its single-minded focus on helping consumers save time and money."
One really interesting feature of the app is that it learns what Shoppers like and do not like over time. For example, if a shopper likes Turkey Hill ice cream SaveOn! will only look for this brand as it searches for the best prices on ice cream across the shopper's favorite stores. Likewise, if the shopper has multiple brands they like, SaveOn! will look at all of them across all of their selected store(s).
In addition to the app, SaveOn! is launching a companion website at http://www.saveon-groceries.com where consumers can keep track of the money they have saved, read interesting stories and tips about saving money and modify their product preferences directly.
Kevin J. Young, Co-Founder and CMO added, "We have created a personalized cost minimization model, which maximizes the savings on the brands and products that shoppers prefer. Utilizing machine learning our app discovers your preferences as you use the app. It is pretty cool!"
Why Philadelphia? "Both Aaron and I are committed to Philadelphia and the region. We could have done this in San Francisco but this is our home," said Young.
"Philadelphia is a hotbed for grocery and retailing innovation. Walmart-To-Go and AmazonFresh have both announced plans to launch in Philadelphia. FreshDirect launched in October to compete with Peapod and of course we have innovators like Wegmans and Wholefoods here too," said Wadell.
SaveOn! was developed by Motyx Incorporated. "Motyx" was coined to describe the Company's founding vision of putting powerful mobile analytical tools that simplify complex decisions in consumer's hands. Founded in 2011, the company is located in Wayne, Pennsylvania.
Media Contact:
Info(at)saveon-groceries(dot)com
610-297-4251
Partner Contact:
partners(at)saveon-groceries(dot)com
610-297-4251
NBC News Story
YouTube
Twitter: @SaveOnApp
Facebook
iTunes Download