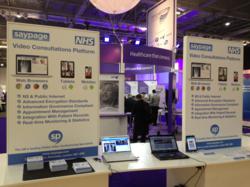 Saypage is a platform that has been designed for professional, scheduled online communication
London, UK (PRWEB UK) 27 March 2013
Saypage enables healthcare providers to offer patients the option of attending consultations from home via secure, high definition video meetings. These virtual meeting rooms are accessible in ordinary web browsers without the need for additional software or installation of browser plugins, as well as via smartphone and tablet apps. Customised portals can be built on the Saypage platform that allow appointments to be booked and attended online. With reminders sent via email and/or SMS in the run up to an appointment, the widespread, costly problem of "Do Not Attends" (DNAs) is greatly reduced.
Accessible via the public internet, secure communication portals can be integrated with existing web sites and allow for video consultations to take place regardless of the location of clinician or patient, or the computer they wish to use. For patients, the fact that consultations occur in a branded healthcare environment without the need to use another application is also hugely important in terms of providing comfort and peace of mind.
Saypage launched this healthcare focused initiative at the recent Healthcare Innovation Expo held in London ExCeL on 13-14 March 2013 to much industry interest. "Saypage is a platform that has been designed for professional, scheduled online communication. We'd noticed a growing number of clinicians resorting to Skype for conducting healthcare consultations and realised very quickly that the idea of your doctor appearing in among your list of friends and family whenever they came online and being contactable, and the recent addition of pre-call and in-call advertising banners, just wasn't suitable for carrying out serious, health-related appointments," says Head of Business Development, Marek Zwiefka-Sibley. "So we've created a platform for non-social communications that does not rely on patients having installed specific software to their computers and that allows for the booking and management of appointments, the real-time sharing of documents and images, and the recording of consultations."
Interestingly, as far as many healthcare providers are concerned, Skype is not technically viable as it cannot operate from within their private networks due to the peer-to-peer technology it is built on. And whilst there do exist other video conferencing alternatives that can be made to work, none provide the flexibility or functionality of Saypage.
By creating a live communications platform that can be branded, customised and integrated with a healthcare provider's existing online offering, Saypage presents itself as an extremely powerful tool for giving patients the confidence they need to choose a convenient alternative to the often time consuming or costly trip to the hospital or GP surgery. And with plans to integrate Saypage with providers of digital medical records and discussions with other providers of telehealth solutions to further strengthen the overall Saypage proposition underway, 2013 looks set to be an interesting year.
Please go to http://www.saypage.com/press.jsp for press material.
About Saypage: Saypage is a Video Consultations Platform that enables businesses to rapidly deploy branded communications portals with integrated billing, reporting, recording, whiteboard and scheduling. With expertise in high-definition video conferencing, Saypage services can be accessed seamlessly on smartphones, tablets and in web browsers without the need for additional downloads or plugins. Saypage is headquartered in London, England and with offices around the world, the company provides global support and service.