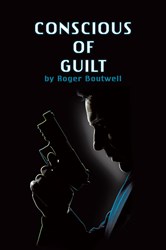 The price of revenge may be the cost on one's soul.
(PRWEB) January 30, 2014
The intense novel Conscious of Guilt enters the mind of Eric Brand, who has reached the end of his rope. Seventy-year-old Eric and his wife Helen are struggling pensioners living in suburban London. The Brands are devastated when they learn that a gang has killed their child. Helen collapses at the news and ends up in a coma. Consumed with rage, Eric vows revenge. He acquires a gun and tracks down the gang. Recognizing Eric's ruthlessness and seeming lack of conscience, Eric is approached by a man wanting him to become a contract killer.
What will Eric's decision be? Will he feel Conscious of Guilt and regret what he has become or will his son's death kill his soul?
CONSCIOUS OF GUILT (ISBN: 978-1-61897-775-5) is now available for $19.97 and can be ordered through the publisher's website: http://sbpra.com/RogerBoutwell or at www(dot)amazon(dot)com or www(dot)barnesandnoble(dot)com.
WHOLESALERS: This book is distributed by Ingram Books and other wholesale distributors. Contact your representative with the ISBN for purchase. Wholesale purchase for retailers, universities, libraries, and other organizations is also available through the publisher; please email bookorder(at)aeg-online-store(dot)com.
About the Author: Roger Boutwell was raised in Essex, UK, and now lives in Adelaide, Australia. He is retired from the hospitality industry. This is his first book and he is currently writing the sequel.
Strategic Book Publishing and Rights Co, LLC