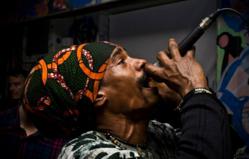 london (PRWEB UK) 18 March 2013
Escape a stressful work week with a modern mix of reggae, steppers and jazz - Kings Cross Media announces an evening of good vibes and reggae rhythms with the long awaited performance of Raggamuffin' Stamina Li at London's epic night club Scala this Friday, March 22nd. This eclectic musician is a songwriter, emcee, saxophonist and chanter.
He is also official mic man of Djolof Roots Sound from Senegal and co-founder of Wass'Muffin Academy and his sound is sure to satisfy reggae enthusiasts.
University of Dub @ Scala features three sound systems playing roots reggae and dub music to the early morning. Sit back, step-up, skank and enjoy the frequency of the night which is pure love and togetherness as some of London's brightest reggae artists take center stage.
The line up includes love feelings from CHANNEL ONE (Sound System) with Mikey Dread at the Itrol &Ras Kayleb and Daughtas, KIBIR LA AMLAK (Sound System) with Jt & Stamina li on the mic, ABA SHANTI-I (Sound System) The Earth Rocker Sound of Jah Lightening and Thunder.
For more information about this venue go to Scala club's website or check the live music london calendar on Kings Cross Media's website.