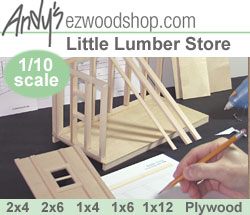 It's all because I didn't have anything to practice on
Portland, OR (PRWEB) January 06, 2010
At first Andy wasn't sure he could build his own storage shed. The plans he downloaded from the Web included some fairly complicated measuring and cutting, but he jumped into the project anyway, and quickly ruined about $50 worth of good lumber.
"It's all because I didn't have anything to practice on," said Andy. "I kept wishing I could build a scale wood model of the shed first – and save the good lumber till I figured out what I was doing."
The build-it-small idea stuck. Soon Andy was checking out hobby stores for scale wood lumber, but he was disappointed with what he found. The basswood lumber he located didn't come in sizes or shapes that resembled the boards at home improvement centers. Not even close.
"So I started making my own boards," Andy recalls, "boards that look like 2x4s and 2x6s, but are smaller, less expensive, and easier to work with."
Soon Andy was making miniature models of other DIY projects he wanted to build: a garage workbench, bookcase, and a playhouse for his neighbor, who suggested that Andy offer his "little lumber" for sale to woodworkers.
At ezwoodplans.com, Andy offers 1/10 scale lumber in a wide range of boards commonly found at home improvement centers – including plywood panels and 4x4 wood posts. The wood is available in packaged kits or separate lumber bundles. Packaged kits include a variety of dimensional lumber sizes – plus the following accessories:
8-Foot Pocket Ruler – Companion ruler in 1/10 scale features 96 tick marks – replicating a full-size 8-foot board (96 inches). Used for measuring and laying out project designs using scale wood modeling lumber from ezwoodplans.com.
Board Length Calculator – Downloadable PDF tool helps DIY builders estimate the number of boards needed for a given project. Also shows which board lengths will provide the least amount of waste – plus total cost for lumber when local prices are entered in the form.
Plywood Cutting Diagram – Downloadable PDF template features a plywood grid that lets builders sketch and layout project pieces on a 4x8 sheet (in 1/10 scale).
Other wood project design tools at ezwoodplans.com that compliment the scale wood modeling lumber include:
EZ Wood Project Planner - Printable graph paper templates give DIY builders basic layout tools for designing wood project plans.
EZ Magic Drawing Cubes - Graph paper PDF template helps builders sketch by hand wood project ideas in 3D.
EZ Workbench Planner - How to build a workbench. PDF download with grids, charts, and diagrams to help builders design their own workbench plans.
EZ Bookcase Planner – How to build a bookcase. PDF download shows construction techniques for designing custom bookcase plans or bookshelf plans.
About EZwoodShop.com
EZwoodshop.com is focused on providing project design help for woodworkers and beginning DIY project builders. In addition to scale wood modeling lumber, the website provides downloadable templates, cutting diagrams, graph paper, and how-to guides for creating custom workbench plans, bookcase plans, pergola plans, playhouse plans, and other wood projects. Ezwoodshop project design tools are not software. They consist of downloadable PDF templates that require nothing more than a desktop printer, some paper, and a pencil.
# # #