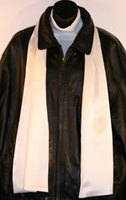 leave the color to the girls.
Castle Rock, CO (PRWEB) November 7, 2007
Men are adding Color to their Wardrobe with this Fun Twist. Traditionally, men's fashion has been fairly simple; a navy, gray or black suit, muted color shirt and matching shoes. The typical guy attitude toward style has been "leave the color to the girls." But Fashion Scarves And Shawls.com is changing all that.
Where women tend to be the peacocks in the style world, the typical male has often remained in the shadows, dressing in a more utilitarian manner. Women dress to wow those who are fortunate enough to gaze upon them while "guys" dress for a purpose; it does a job such as cover, protect or keep warm. But times are changing and the male gender is finding that they have more clothing options and clothing doesn't always have to "just" serve a purpose.
The hot item this season are men's silk and pashmina scarves. Stylish and rich, the pashmina and silk scarves are a must have for every fashionable male's wardrobe. It is versatile, classy and a great way to add a splash to a suit or monochromatic ensemble. This stylish accessory gives the masculine male the upper hand on manly fashion and a look the ladies will certainly appreciate.
Style accessories for the male gender differ from the feminine counterparts in that the colors are more muted and subdued. They remain fairly close to the basic color groups so there aren't any surprises with bright, garrish colors. Men's scarves come in variations they would actually wear: shades of blues, blacks, whites, greens and reds, but nothing garish and all are certainly masculine in looks.
Meryl Rougeaux, of FashionScarvesAndShawls.com, has this advice for guys who want to take the next step in male style with a silk or pashmina scarf, "Avoid any scarfs that are shiny or shimmery. Instead, stick with bold but subdued colors that are solid and are in a soft, non-reflective material. Silk, pashmina, and wool are great looking scarfs to get and very difficult to go wrong with."
Adding a long, thin off white (eggshell) or white aviator style scarf with a black or brown leather jacket is a hot look that can take the fashionable male from day to evening. They can also be paired with a trench coat or a three quarter length jacket. Meryl also advises that they should not be afraid of some brighter shades. Adding a splash of deep green to a tan trench coat or a red shade to a black jacket can dress up a look and take it from drab to fab.
Scarfs are a great way for guys to add a little punch to their outfits without having to commit to too much. A man can look more elegant and refined when he makes such a small addition to his wardrobe as a silk scarf. It adds a simple touch of class. On top of that, they are functional in cold weather as they protect the neck from the winter chill. Every guy needs at least one scarf this season to complete his look, not to mention...the ladies will love it.
Meryl's unique website carries gorgeous and fashionable scarves and shawls for every occasion. For more information visit her website at http://www.FashionScarvesAndShawls.com.
###