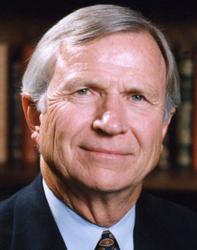 Scottsdale, AZ (PRWEB) March 07, 2013
Dr. Lattie Coor, chairman and CEO of The Center for the Future of Arizona, will speak on the Center's "The Arizona We Want" initiative Wednesday, March 27, 2013 at Scottsdale Community College. This free event is open to the public.
Dr. Coor, who served as president of Arizona State University from 1990 to 2002, will discuss the project's study released in January. The study revisits the eight citizen goals identified by a Gallup Arizona Poll in 2009 that found consensus from respondents in three areas: caring for the economy, creating healthier people and communities and protecting the environment.
The results from that survey serve as the foundation for the Center for Arizona's citizens' agenda for public policy and civic engagement.
The Arizona We Want 2.0 study reviews how far the state has come in achieving its citizens' agenda and suggests a set of specific "next steps" the state could take to achieve the Arizona we want.
Following his remarks, Dr. Coor will take questions from the audience. In addition to founding the Center for the Future of Arizona in 2002, Dr. Coor is the Ernest W. McFarland Arizona Heritage Chair in Leadership Policy and a professor of public affairs at Arizona State University.
He will be introduced by SCC President Dr. Jan Gehler, who also will offer welcoming remarks.
The event is sponsored by Scottsdale Community College, District 23 Democrats and the City of Scottsdale's Human Relations Commission.
When: Wednesday, March 27
6:30 p.m. (doors open at 6 p.m.)
Where: Turquoise Room, Student Center, Scottsdale Community College, 9000 E. Chaparral Road, Scottsdale. Use Entrance 1, then park in Lot A.
Scottsdale Community College is one of the 10 regionally accredited Maricopa Community Colleges. This premier educational and cultural center that serves the needs of its diverse communities by providing innovative and creative opportunities to learn, grow and achieve. We offer affordable, high-quality instruction to traditional and non-traditional students, career-minded professionals and life-long learners.