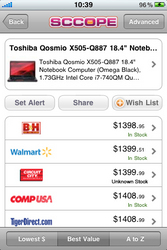 Boston, MA (PRWEB) August 17, 2010
Sccope, http://www.sccope.com, the premier comparison shopping tool, is launching a price comparison and barcode-scanning app for iPhone and BlackBerry® smartphones. Available in the U.S. and the UK, Sccope makes it easy for consumers to identify the best possible deals from hundreds of top retailers through a comprehensive product search and stock and price drop alerts.
Consumers can simply enter the name of a product in the search field, browse through the shopping categories or take a photo of the barcode of the product in hand to check the price against Sccope's 10 million different price points. With a select set of participating retailers, they can then navigate to the shopping pages to purchase the product. Users can also make a wish list, track prices and inventory through alerts and receive special offers.
Douglas Orr, CEO, SCCOPE said, "We are excited to be launching Sccope in time for the 'back to school' shopping season. We are committed to making sure our users get the very best prices on their purchases and to helping retailers build a lucrative mobile sales channel. Sccope accomplishes this by allowing users to quickly scan barcodes, compare prices and make purchases either at the store or on the go."
Sccope features more than 100 participating retailers. Retailers find that Sccope is a new and exciting mobile shopping experience, providing them with the opportunity to increase sales by reaching out to thousands of existing and new customers. Sccope is available on the web, via apps on a variety of mobile platforms including BlackBerry, iPhone, Vodafone 360, T-Mobile and all other web enabled phones.
Sccope on BlackBerry App World:
http://appworld.blackberry.com/webstore/content/12464
Sccope on the iPhone App Store:
http://itunes.apple.com/app/sccope/id347644570?mt=8
About Sccope
Sccope is the premier price comparison and barcode-scanning tool for comparison shopping and finding product information. Sccope carries over 10 million different price points from hundreds of top retailers and features a wide range of products including electronics, games, DVDs and toys. Savings for Sccope users would on average total 25% but could be as much as 75% on single items. Sccope is available on the web, via apps on a variety of mobile platforms including BlackBerry, iPhone, Vodafone 360, T-Mobile and all other web enabled phones by visiting our mobile friendly website sccope.com
###