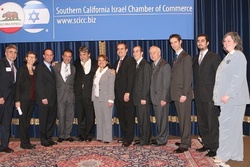 No one keeps a room of business people motivated, focused and inspired like David Suissa
Ferndale, WA (Vocus) March 3, 2009
Guest speaker David Nahai, the newly appointed General Manager of the Los Angeles Department of Water and Power, mesmerized the packed room of Israel conscious business people with his vision of the future of energy and water conservation in Los Angeles. From reclaiming water from the more than 5,000 miles of underground sewers to his already partially delivered commitment to increase reliance on alternative energy (LADWP is already running at more than 10% alternative energy levels), Nahai laid out a compelling timetable with a clear pathway to achieving his goals. He invited attendees to look for upcoming RFP's related to alternative energy projects.
David Suissa, formerly of advertising agency Suissa Miller and now a noted weekly columnist for the LA Jewish Journal, was an excellent master of ceremonies for this evening affair. "No one keeps a room of business people motivated, focused and inspired like David Suissa" exclaimed Jason Ciment, Director of US Operations for web design and SEO agency LaDezign.com and one of the 2 "Chamber Boys" who organized the event. In the same way Suissa invites readers each week to encounter new and extraordinary flavors of Jewish expression in the "Hood" (as he refers to his diversely Jewish Los Angeles neighborhood), David was his own mini-chamber as he facilitated dozens of introductions of attendees to meet each other and create new opportunities for business exchange.
Jacob Segal, the Executive Director of the SCICC as well as President of Investors Research Group pulled out all the stops to pack the room with business people looking to identify business, trade and investment opportunities between companies in Southern California and Israel. Awards were also handed out to three outstanding individuals for their commitment to both the Los Angeles and Israeli business community. Shai Aizin, Consul for Economic Affairs for The Government of Israel's Economic Mission in Los Angeles received the Service Leadership Award. Mitch Englander, Chief of Staff for LA City Councilman Greig Smith, representing the North West San Fernando Valley received the Community Leadership Award. Sharona Justman, Managing Director of STEP Strategy Advisors, received a Business Leadership Award for her years of work for the LA and Israel business communities.
David Gardner, an immigration lawyer, and Teri Cohan Link, both former presidents of the SCICC were also recognized from the podium for theirs years of service in the Chamber. The Southern California-Israel Chamber of Commerce (SCICC) is a non-profit, non-governmental organization dedicated to fostering bilateral business, trade and investment opportunities between Southern California and Israel. To find out more about SCICC and upcoming events, please visit http://www.scicc.biz.
CONTACT:
Jason Ciment,
6300 Wilshire Blvd, Suite 1010
Los Angeles, CA 90048
Website: http://www.scicc.biz
# # #