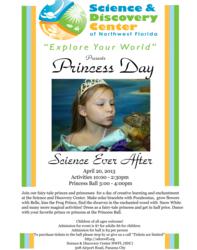 Panama City, FL (PRWEB) April 16, 2013
The Science & Discovery Center of Northwest Florida is proud to present Princess Day on Saturday, April 20. Visitors can join in with the center's fairy-tale princes and princesses for a day of creative learning and enchantment. The activities are scheduled from 10 a.m. to 2:30 p.m. and the Princess Ball is 3 p.m. to 4 p.m.
From 10 a.m. to 2:30 p.m., visitors can create solar bracelets with Pocahontas, grow flowers with Belle, kiss the Frog Prince, journey through the enchanted forest with Snow White to find the seven dwarves, and many other magical and fun activities. At the Princess Ball, visitors can dance with their favorite prince or princess.
When guests dress up as a fairy-tale princess they can get into the museum for half price. Children of all ages are welcome. Admission for the event is $7 for adults and $6 for children. Admission for the Princess Ball is $3. Tickets for the ball are limited, so please call (850)769-6128 or stop by for tickets in advance. The Science & Discovery Center is located at 308 Airport Road in Panama City.
About the company:
"Educating Young Minds," is the Science & Discovery Center of Northwest Florida's goal. Their mission is to educate and inspire children and adults through hands-on, interactive exhibits that promote the discovery of science, technology and history. The roots of the center go back to 1967, when the Junior Women's Club and the Women's Club of Panama City conceived the idea for a children's museum in Bay County. Eleanor Lewis of the club, inspired by the Junior Museum in Tallahassee, wanted a place in Bay County for children to play and learn. Along with other civic organizations and volunteers the very first exhibit opened in 1969. The current museum site was first leased in 1972 and the present building first staged exhibits in 1981. Through Eleanor's visionhard work and the invaluable work of volunteers, the museum grew to be what it is today. Their newest 6000 square foot center was opened in June 2010 and the museums name was officially announced as the Science & Discovery Center of Northwest Florida in April 2011. For more information visit their website at http://www.scienceanddiscoverycenter.org.