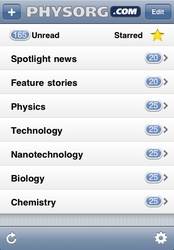 "With 1.75 million readers every month, PhysOrg hopes to offer a mobile reading option for everyone. These wireless services are ideal for people commuting by train, plane or carpooling."
(PRWEB) March 1, 2010
As a leading source of science and technology news, PhysOrg.com continually offers its readers cutting-edge ways to stay up to date on the latest research. Now PhysOrg is making it even easier for readers to keep up with science breakthroughs while away from the computer.
PhysOrg is introducing three new high-tech ways for readers to wirelessly stay in touch with the news on its website. Starting now, readers can read PhysOrg stories on the iPhone with new PhysOrg apps, listen to podcasts through iTunes on any MP3 player, and read stories on the Amazon Kindle.
"With 1.75 million readers every month, PhysOrg hopes to offer a mobile reading option for everyone," said Alexander Pol, Managing Editor of PhysOrg.com. "These wireless services are ideal for people commuting by train, plane or carpooling."
PhysOrg iPhone App
Although iPhones, PDAs, and other devices have always been able to access a mobile version (http://www.physorg.com/help/physorg-mobile/ ) of PhysOrg.com, the new iPhone app is designed to make it even easier for iPhone users to read the text on the small screen, as well as offer other features.
The PhysOrg iPhone app comes in two versions: a "Lite" (free) version itms://itunes.apple.com/us/app/physorg-com-news-lite/id356443503?mt=8] and a "Full" (paid) version itms://itunes.apple.com/us/app/physorg-com-news/id356448743?mt=8] , both of which are ad-free. The "Lite" version allows readers to browse the top 10 daily news stories on PhysOrg.com. Readers may rate, bookmark and share favorite stories via Twitter or email directly using the app. Readers can also read stories in offline or "airplane" mode.
The "Full" version offers these features as well, but includes all PhysOrg stories in all categories. Readers may customize content by selecting their favorite categories, which include physics, technology, earth science, medicine, nanotechnology, electronics, space, biology and chemistry.
Readers can download the "Lite" and "Full" PhysOrg apps from the Apple App store. For more information about the apps (including a video demonstration), visit http://www.physorg.com/help/iphone/ .
PhysOrg Text-to-Speech Audio Podcasts
Every day, about 40 of the top PhysOrg stories (called "Spotlight News") are converted into text-to-speech (T2S) podcasts. You can listen to the podcasts online by clicking the speaker icon next to the story, manually download the podcasts into your MP3 player through an RSS feed, or subscribe to the podcasts via iTunes (http://itunes.apple.com/podcast/audiodizer-physorg-com-spotlight/id348735233). The T2S conversion process is powered by AudioDizer, an MIT-student-founded company. AudioDizer takes the podcast experience to the next level by using multiple voices, different accents, and music to enhance the listening experience. For more information on PhysOrg podcasts, visit http://www.physorg.com/help/audio/ .
PhysOrg on the Kindle
Readers can subscribe to PhysOrg stories through the Amazon Kindle e-reader through two feeds. The "Spotlight News" feed offers the top 40 or so stories of the day (the same stories that are converted to podcasts). Readers who are primarily interested in a specific subject can subscribe to one of five channel feeds, which provide all stories in that subject. The five channel feeds are Space and Earth, Technology and Electronics, Biology and Chemistry, Physics and Nanotechnology, and Medicine and Health. Already, PhysOrg has more than 350 Kindle subscribers, and the number is growing rapidly. For more information and to download PhysOrg feeds on the Kindle, visit http://www.physorg.com/help/physorg-kindle/ .
About PhysOrg.com
PhysOrg.com™ is a leading web-based science, research and technology news service which covers a full range of topics. These include physics, earth science, medicine, nanotechnology, electronics, space, biology, chemistry, computer sciences, engineering, mathematics and other sciences and technologies. Launched in 2004, PhysOrg's readership has grown steadily to include 1.75 million scientists, researchers, and engineers every month. PhysOrg publishes approximately 100 quality articles every day, offering some of the most comprehensive coverage of sci-tech developments world-wide. Quancast 2009 includes PhysOrg in its list of the Global Top 2,000 Websites. PhysOrg community members enjoy access to many personalized features such as social networking, a personal home page set-up, RSS/XML feeds, article comments and ranking, the ability to save favorite articles, a daily newsletter, and other options.
###