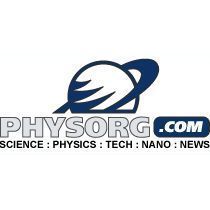 With the new features, we hope that readers will fine-tune PhysOrg to a site that best suits their needs
Douglas, UK (PRWEB) July 17, 2008
The Internet offers unlimited space for storing information, but one unprecedented challenge for many Web sites is how to organize it all. PhysOrg.com (http://www.physorg.com), a leading science and technology news Web site, has recently developed several innovative methods to manage its large volume of content and cater to its diverse readers.
PhysOrg publishes 75-100 news stories per day and hosts about 100,000 daily readers. The site covers a wide variety of science areas (such as physics, nanotechnology, chemistry, space, biology, math, health and medicine, etc.) and technology (such as the Internet, electronics, computers, engineering, energy, etc.). The stories come from leading research institutions and organizations around the world, leading news agencies, and also include exclusive features.
While it's a goldmine of information, this large volume of content makes it's difficult for readers to find what they're interested in, and also for the editors to determine which stories should appear as front-page headlines. To address this issue, PhysOrg has developed several new features to help organize the content and cater it to individual preferences.
One new feature, called liverank, is a specially designed formula that ranks every news story based on the editors' scores, user ratings, page hits, and many other factors. The news stories are then automatically arranged on the front page, as well as other pages of the site. Unlike newspapers, magazines, and most traditional news Web sites, the top content is determined not only by the editors, but also by the user community, and is constantly changing.
For readers who think that liverank does not correlate with their preferences, PhysOrg also offers a variety of manual sorting options. These options include sorting by date, source, most popular, most commented, most emailed, most recommended, etc. Readers can also filter stories by specific categories (such as electronics, science, space, physics, etc.), and subcategories within these categories (such as hardware or chemistry), and then sort the results by one of the sorting options listed above.
With its 25,000 registered members in mind, PhysOrg has developed several other features that make the site similar to a social networking community. Members have their own user accounts (http://www.physorg.com/profile/) with features that include Personal Messaging (PM) with other members, user activity tracking (such as recent comments), and the ability to view other members' posting activity within the site. Members also have the option to view new stories from their last visit, and the ability to save stories in their favorites folder, which they can easily access.
In addition, members can create a "My News" filter tab by choosing the categories and topics they are especially interested in and stay updated on these topics. They can also choose the time period and how to sort the news items in the filter.
Individuals who cannot visit the site regularly can still stay informed on recent news by subscribing to science and technology RSS feeds or fully customizable newsletters, which are sent out every business day.
"With the new features, we hope that readers will fine-tune PhysOrg to a site that best suits their needs," said Andrew Zinin, member of the PhysOrg team. "Members have access to many options that allow them to interact with others, similar to a social networking community. With these features, all visitors who click on articles are influencing the site, and improving its organization based on their activity."
For more information on PhysOrg, visit http://www.physorg.com.
About PhysOrg.com:
PhysOrg.com, a leading science and technology news Web site, has been publishing the latest in cutting-edge research and news stories since 2004. The site has about 100,000 daily visitors and 25,000 registered members, including members of the general public, students, and researchers. PhysOrg provides about 80 news stories per day in categories including general science news, physics, nanotechnology, technology, electronic devices, space and earth sciences, and medicine and health.
####