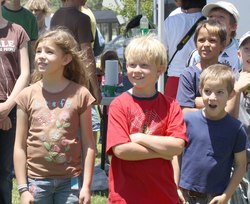 The Next Big Idea is not only a great venue for adults interested in new and innovative ideas, but is a great way for young people to get a sense of what scientists and inventors do in a fun, relevant and hands-on way
Los Alamos, NM (Vocus) July 1, 2010
Los Alamos, New Mexico, has the highest number of people with PhD's per capita in the country, many who are inventors and scientists, which is why it's only logical to host the 3rd annual "Next Big Idea" festival - a festival of discovery, invention, and innovation - Saturday, July 17, with STEM Student Day on Friday, July 16.
But visitors to the "Next Big Idea" don't need a PhD to appreciate Alamos' unique creative history, especially since the event has the potential to inspire many young New Mexicans to consider a future career in science, technology, engineering, math, and innovation.
"The Next Big Idea is not only a great venue for adults interested in new and innovative ideas, but is a great way for young people to get a sense of what scientists and inventors do in a fun, relevant and hands-on way," said Los Alamos MainStreet Manager and organizer, Suzette Fox. "Besides scientists and inventors, there will be a Kids Discovery Zone with hands-on science activities; a telekinetic Mind Flex game competition; Giant Volleyball games; the band, 'Last Call,' will be performing and a variety of tasty food will be served from 11 a.m to 3 p.m at Ashley Pond on Saturday."
Study after study has shown that students in the United States lag behind their peers in many other countries when it comes to test scores in science and math. This academic disadvantage means that students turned-adults are less inclined to become engineers, scientists and inventors - something with which other countries have the competitive edge.
Making science and technology more interesting by letting students experiment and experience science in a laboratory rather than a book is the key, according to inventor Bob Hockaday, President of Energy Related Services, who will also lead a workshop at the Festival.
"A child's vivid imagination is his or her greatest asset because they can eventually improve on an existing invention or come up with a new one - when you think about, childlike curiosity is at the root of discovery," Hockaday said. "I can say from experience, that a child can make daydreams useful and she can make herself smarter just by asking questions and wondering how and why - there's a world of discovery out there; it hasn't all been discovered yet."
Like many inventors who are participating in the Festival, Hockaday has several inventions that are currently being utilized and patents pending on other inventions. Some inventions are even being used to protect the U.S. military including Hockaday's safety goggles that prevent fogging and improve air flow to reduce the collection of dust - something that is very useful in sandy environments such as Iraq.
"I was a daydreamer as a kid and at the bottom percentile of my class because of my grades, so I'm proof that you don't have to be a genius to become an inventor or a scientist, you just have to have the desire to learn more and to want to improve people's lives with your ideas. Like Einstein said - 'necessity is the mother of invention.' Inventors are ultimately a bunch of dissatisfied people trying to figure out how they can make something better,'" Hockaday added.
On July 16th, from 9 a.m to 5 p.m., students from grades seven through 12 can learn more about a future in the field of science, technology, engineering or math during the STEM (Science, Technology, Engineering and Math) Student Day. Activities include a full, fun day of meeting scientists and inventors and a free concert in the evening at Ashley Pond. The cost is $50 per student. Registration is still open and can be done online at http://www.nextbigideala.com.
Then on Saturday, July 17 young people will feel right at home with a hands-on Discovery Zone at the Festival, featuring interactive innovations and discoveries that they can actually touch, see and experience with all the senses. The Festival is free to the public and takes place from 11 a.m. to 3 p.m at Ashley Pond in Los Alamos.
The Next Big Idea is sponsored by Los Alamos Main Street, Los Alamos National Bank, Los Alamos National Securities LLC, Compa Industries Inc, Los Alamos National Laboratory Foundation, Innovate-Educate New Mexico and New Mexico Consortium, among others. However, sponsorship is still available. Contact Suzette Fox at (505) 661-4844 for details.
For more information, contact Suzette Fox at (505) 661-4844 or Suzette(at)losalamos(dot)org or visit http://www.nextbigideala.com for complete details. Ashley Pond is located off of NM 502/Trinity Drive. From Albuquerque, take I-25 northbound to the Santa Fe exit to exit 282. From there, merge onto US 285/S St. Francis Dr and continue for 19 miles to NM 502 to Los Alamos.
For general information on Los Alamos, visit fyila.com or http://www.visit.losalamos.com.
About Los Alamos MainStreet
Los Alamos MainStreet is a program of Los Alamos Commerce & Development Corporation. The goal of Los Alamos MainStreet is the support a vibrant downtown through events, promoions, participation in planning and design projects and business assistance. Other events produced by Los Alamos MainStreet each year include the Fair & Rodeo Parade, Halloweekend and Winterfest. Visit http://lamainstreet.com/ for more.
# # #