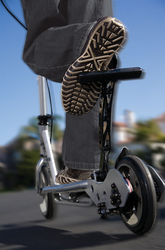 There is no better place in the world to introduce a new toy, or reintroduce a classic item like the Pulse Kick 'N Go than The World's Greatest Toy Store
New York, NY (Vocus) March 13, 2008
Today, Bravo Sports announced that its long awaited Pulse Kick 'N Go, a reengineered version of the original Kick 'N Go scooter of the 1970s, is now available exclusively at Toys"R"Us stores nationwide and online at http://www.Toysrus.com. To celebrate the release of this novel, two-wheeled, ride-on scooter, Bravo Sports will highlight the item in a dedicated boutique in Toys"R"Us Times Square through the end of March.
This modern incarnation of the classic racing machine offers a markedly faster and smoother ride; new high-tech gearing; and contemporary design features including a high performance Chromoly steel frame, band brakes and state of the art high speed polyurethane wheels. Unlike traditional scooters that require constant pushing off the ground, the Pulse Kick 'N Go uses a unique chain driven kick lever propulsion system that allows the rider to accelerate and maintain speed without ever touching foot-to-ground. The ease of use is extraordinary, allowing even beginning riders to jump on and go while easily executing tight turns and maintaining a balanced stance on the deck. Strong enough for dad to take his nostalgic laps around the neighborhood, the Pulse Kick 'N Go represents the next generation of wheeled products to offer transportation and perennial fun in a physical outdoor activity for kids of all ages.
"There is no better place in the world to introduce a new toy, or reintroduce a classic item like the Pulse Kick 'N Go than The World's Greatest Toy Store," said Karen Dodge, Senior Vice President, Chief Merchandising Officer, Toys"R"Us, U.S. "The Pulse Kick 'N Go scooter is a great outdoor toy that gets kids active, while reminding parents of their own, classic playthings."
The Pulse Kick 'N Go is currently available with black wheels and decals. A second, red, version will be available later this year. Visit the Pulse website at http://www.pulsekickngo.com for additional information about the Pulse Kick 'N Go and its unique drive-train.
About Bravo Sports
Bravo Sports is the world's largest manufacturer of urethane wheels used in skating and toy products and is a leading provider of outdoor recreational products including instant canopies, trampolines, inline skates, skateboards, home skate park equipment and other accessories. Bravo Sports designs and develops specialty consumer products manufactured to the Company's detailed specifications by independent contractors and distributed in the U.S. and worldwide through the Company's established retail distribution network. Bravo sells products under its industry leading brand portfolio including Quik Shade®, Quik Chair®, Airzone®, Hyper® and Kryptonics® and under its license relationships including Barbie®, Hot Wheels®, Nickelodeon® and World Industries®.
# # #