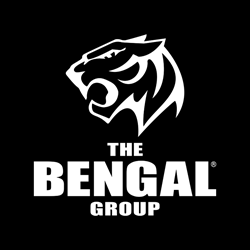 Right now the converting industry is worth $273 billion and as it continues to grow with the boom from Amazon, Walmart and Ecommerce it's set to reach a half a trillion dollars by 2026.
PHILADELPHIA (PRWEB) July 17, 2019
In the 202 years since the first paperboard carton was produced in England in 1817, most of the biggest innovations have occurred in the last decade due to advances in technology, printing, cutting, computing, and sources of pulp, from virgin fiber to creative methods for reusing, recycling, and reclaiming waste paper.
"Right now the paperboard industry is worth $273 billion and as it continues to grow with the boom from Amazon, Walmart and Ecommerce it's set to reach a half trillion dollars by 2026," states Scott Korn CEO/Owner of The Bengal Group.
While the shipping packaging required by Amazon and the e-commerce & mail-order industry are major growth drivers, the food and beverage segment, requiring elaborately folded clamshells to carry burgers and big-gulps, accounted for the highest market share in terms of revenue. Paperboard (also paper) converting specializes in taking pre-cut paperboard blanks and then folding and forming them into packaging, known as tray forming or carton erecting.
Previously the United States was once the leader in the industry, China has become the leader globally since 2009. Converting companies specialize in combining raw materials to create new products and folding them, using tray forming or carton erecting processes, into packaging containers like nacho trays and hamburger clamshell boxes.
77% of consumers feel better about a company that uses recycled, the recycled paperboard industry relies heavily on high quality recovered wastepaper to ensure the cleanliness of the finished paperboard.
When Paperboard Isn't Always Cardboard but Cardboard Is Always Paperboard
Paperboard isn't always exactly what one assumes. Yes, it can be the sort of corrugated brown boxing cardboard that protects all of your most valuable Etsy and Ebay finds; it can, also, be any number of board types, from just a little thicker than a piece of fancy resume paper (usually over 0.30 mm, 0.012 in, or 12 points) and is generally much more foldable, durable, and rigid than paper, being able to hold its shape once folded or structured. Paperboard can be single-ply or multi-ply and is commonly called cardboard; however, the paper, printing and packaging industries frown upon such usage because it tends to only mean very pulp based board and doesn't adequately describe all the types, qualities, strengths, rigidity, resilience, waterproofness, etc, that the industry is now able to provide in the form of paperboard.
Turning a Board Into a Package
In general, "converters" are industrial companies that combine all sorts of materials, including, adhesives, silicone, foams, polyesters, plastics, rubbers, metals, and, of course, paperboard products. Layering, printing, folding, gluing, slitting, coating, folding—and many other advanced processes—are all part of the modern paperboard converting process.
Well before all the folding and finishing, paperboard converting factories produce huge continuous rolls of the converted pulp paperboard that are called webs. These webs are threaded through very advanced and sophisticated machines similarly to how modern newspapers are printed, folded and produced, if you would like an analogy. Once these webs are threaded into their machines, these processes can convert the flat source paperboard into almost anything you can imagine, including boxes and packaging and fast food clamshells and can even be integrated with technologies like radio-frequency identification tags (RFID), electronics, tracking, and can even become internet of things (IOT) devices. The only limit is based on creativity, innovation, an interested and keen client, and lots of creativity.
This process is known as web processing and can be broken down into parts. Sometimes, very complicated and sophisticated products need to have pieces and parts cut and folded and then glued or pressed together; however, the majority of converting jobs only require coating, laminating, and printing.
In order to make the converting process work properly, there are elaborate alignment processes to make sure that each cut, fold, print, and process stays in true. Called the web alignment, it uses sensors and actuators and trackers to keep everything in-line, even as the rolls of paperboard become smaller and spooling rates increase, the quality is able to be maintained mostly automatically.
Paperboard converting methods have allowed commercial and consumer packaging to become integral to the curb appeal of the product itself, allowing the "wrapping paper" to be as appealing as the "present" inside. With unique automated systems for bonding, treating, printing, cutting, and folding, converting factories are able to turn paper pulp into paperboard and then into durable, beautiful, light, and protective shells for the treasures inside.