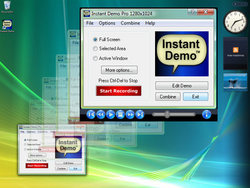 Wollongong, NSW (PRWEB) July 9, 2009
NetPlay Software releases Instant Demo v7.5, a Windows screen recorder that creates interactive movies for presentations, demonstrations and training. Version 7.5 introduces TrakMouse™, a new technology that automatically tailors a full screen recording for presentation in a smaller screen format.
A video of your software in action is an excellent way to demonstrate its features. It provides a hands-on approach without requiring the presence of an instructor or presenter. However, showing a full screen presentation can prove problematic when viewed either in a web browser, or on a lower resolution device such as a PDA or mobile. This requires shrinking the presentation to fit to size, losing valuable detail and client impact in the process.
This is where Instant Demo TrakMouse™ technology comes to the rescue. Simply set the target resolution for the presentation and Instant Demo does the rest. It will automatically zoom the presentation so that menus and text will appear at full size and clarity, and then pan the zoomed region to follow the mouse and the action.
Along the way you can add callout text, voice narration and even a background soundtrack with automatic volume control.
Instant Demo exports the customized screen recording to many leading industry video formats. The presentation can also be published as an interactive Adobe Flash file. You can add hyperlinks and interactive 'hotspots', allowing the viewer to control the pace of your presentation. The screen recordings are designed to play immediately over an Internet connection on any device with a web browser and Flash player installed.
Instant Demo v7.5 runs under Windows 2000/XP and Vista and is competitively priced from $299 (US) for a single-user license. Exciting new rental options are available from $49(US). Instant Demo may be purchased securely on-line at http://www.instant-demo.com/ . Multi-user licenses are available. You can download a free trial version from the same web address.
###