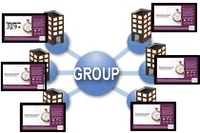 ScreenScape has a strong story to tell in the healthcare and retail industries. HearAtLast's national reach and local presence represents a great candidate to take advantage of ScreenScape's networking strengths. We're excited about solidifying this business relationship
(PRWEB) June 15, 2009
ScreenScape Networks announced today that HearAtLast, a hearing solution provider in select Wal-Mart stores across Canada, has chosen ScreenScape's venue networking solution for a national deployment in 2009.
HearAtLast was attracted to the ScreenScape product's ease in including local content in each of their displays, while sharing a common national brand message and theme. The ability to cross pollinate and connect their screens with other nearby businesses also presented unique advertising and promotion opportunities. Founder & C.E.O. Matthew Sacco and Robert Oswald of HearAtLast see the addition of this unique media format as a win-win for both consumers and clinicians as we truly adapt our message of NO Charge Hearing Testing and Hearing Awareness to the masses in multiple languages. The Wal-Mart store of the community platform is specifically oriented around the ethnic make up of each location. "Controlling content related directly to our offering is key as we educate Canadians to the benefits of the latest hearing devices and personal audio products", stated Oswald.
"The HearAtLast family is a fantastic addition to ScreenScape's venue network." said Kevin Dwyer, CEO and President of ScreenScape Networks. "ScreenScape has a strong story to tell in the healthcare and retail industries. HearAtLast's national reach and local presence represents a great candidate to take advantage of ScreenScape's networking strengths. We're excited about solidifying this business relationship ". HearAtLast plans to begin their national deployment in their Etobicoke, Burlington, and Mississauga locations by May 1.
About HearAtLast:
HearAtLast Holdings, Inc. is a Nevada corporation that owns and operates its whollyowned subsidiary. HearAtLast Inc., a chain of hearing stores specializing in the sale of digital hearing aids and testing services. The company develops, owns, and operates hearing aid clinics co-located within select Wal-Mart stores throughout Canada. HearAtLast facilities sell a selection of high quality brand name hearing aids and also offer complimentary screening tests, clinical hearing tests, high end earbuds and assistive listening devices. The Company's mission is to consolidate the highly fragmented hearing services industry while providing unparalleled service to the estimated 30+ million hearing impaired individuals throughout North America. After a prescription is approved, the independent on-site audiologists and hearing aid practitioners at HearAtLast utilize a refined process to dispense the latest in Name Brand digital hearing aids.
For more information please visit http://www.hearatlast.com
About ScreenScape Networks:
ScreenScape is an Internet Service and Community that offers a smarter, simpler and more cost-effective way to use dynamic screens in your venue. Members of ScreenScape form a community of venues interconnecting to establish a shared resource and a marketplace for exchanging content.
For more information please visit http://screenscape.net
###