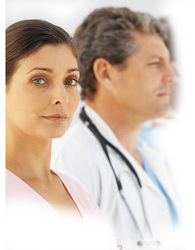 Plymouth Meeting, PA (Vocus) November 30, 2010
According to SDI's 2010 Ranking Tables Study, office-based primary care physicians – general practitioners, family medicine physicians, and doctors of osteopathy – rank GlaxoSmithKline's sales force number one, a jump from third in 2009. Pfizer finished second and Merck placed third this year, down from first and second, respectively, in 2009.
In the study, office-based physicians evaluate the overall quality of a pharmaceutical sales force on a scale of 1 (lowest) to 7 (highest) and indicate their familiarity with each company's sales reps. GSK's average quality score among more than 1,800 primary care physicians who participated was 5.71, an increase from 5.54 in 2009. In both 2010 and 2009, 97% of the study's primary care respondents indicated they were familiar with GSK reps.
In the United States, office-based primary care physicians are the most numerous and receive the most sales rep visits: more than 14 million during the 12 months ending September 2010. Pfizer sales reps called on primary care physicians most often, followed by reps from Merck, AstraZeneca, GSK, and Forest.
GSK sales calls to office-based primary care physicians decreased 12% in the 12 months ending September 2010 compared with the previous 12 months. The products most often discussed during GSK sales calls to these doctors were Advair Diskus, Lovaza, and Avodart.
SDI's 2010 Ranking Tables Study, published today, surveyed almost 12,000 respondents, including office-based physicians from 27 specialties, nurse practitioners, physician assistants, and pharmacists, in September and October 2010.
About SDI
SDI is a leading healthcare market insight and analytics firm. It provides the industry's most comprehensive de-identified patient-level data to pharmaceutical, biotech, retail pharmacy, and medical device companies, enabling them to better understand the healthcare market. SDI also serves the government and the financial services, media, and consumer packaged goods industries. Founded in 1982, SDI counts the world's top 50 pharmaceutical and biotech firms as its clients.
# # #