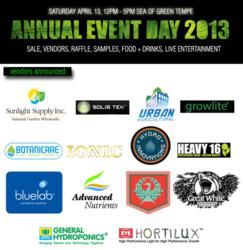 Phoenix, Arizona (PRWEB) March 20, 2013
Sea Of Green would like to extend the invitation to the annual Customer Appreciation event featuring local vendors, free food and drink, live entertainment and raffles. The event will take place at 1301 E. University Dr, Tempe, AZ 85281. Check out the Annual Customer Appreciation Day with Sea of Green!
Sea of Green is hosting the free event to highlight their fresh local produce. Located in Tempe, the Customer appreciation day is open to all. For growers interested in hydroponics, Sea Of Green offers some of the finest grow tents in the nation. From the farm to the stand, local growers diligently work to make sure that your pork, beef, fish and produce remains mouth watering. Aside from the produce, there will also be food trucks.
Farmers take pride in their work. They work around the clock to create a wonderful blend of natural and delicious products. It is important to support local farms and can be easy doing so.
Stop by April 13th 12-5pm and support local farmers in their hopes to create some tasty treats for all to enjoy.
About Sea Of Green:
Sea of Green offers hydroponics, indoor gardening and outdoor gardening products and tips. From nutrients to garden tools to books, Sea of Green is your one-stop-shop for all of your growing needs! Sea of Green sells hundreds of products to enhance your produce. Check out the growing blog to find the latest technology.