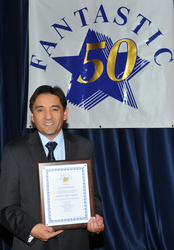 (PRWEB) June 4, 2010
Search Technologies, the leading independent provider of search software integration services announced today that it has been named by the Virginia Chamber of Commerce as one of the 50 fastest growing companies in the state of Virginia.
According to Kamran Khan, CEO of Search Technologies; "We are delighted to be included in the Chamber's "Fantastic 50". Our growth of 542% in the period reviewed puts us at number 17 on the list and is founded on providing customers with measurable business improvement from the smart use of search software. Looking forward, we're confident about keeping our growth going in both corporate and Government sectors."
About Search Technologies
Search Technologies is the premier independent provider of search software integration services. Operating internationally, Search Technologies helps clients to gain business advantage through search based applications. Our technical team of more than 70 experts is the most experienced group of search implementation professionals globally, and this mitigates risk for our customers. In short, we are the experts at fine-tuning search applications to deliver business benefits.
###