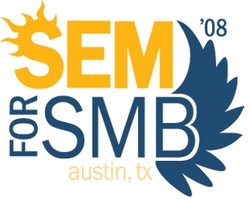 By providing small and medium sized businesses with the knowledge and insight to develop their Internet marketing strategy, the conference hopes to stimulate economic growth for the most critical segment of the U.S. economy
Austin, Texas (PRWEB) June 20, 2008
Mark Dobosz, vice president of development for SCORE - Counselors to America's Small Business; Todd Friesen, vice president of search strategies for Visible Technologies; and Kent Lewis, president of Anvil Media, Inc. will keynote the SEM for SMB 2008 (Search Engine Marketing for Small and Medium-Sized Businesses).
Dobosz, Friesen and Lewis will address the current strategies emerging companies can use to generate more qualified opportunities using search engine marketing tools and techniques. This triple play keynote will energize, entertain, educate and leave attendees alive with possibilities during the event.
The SEM for SMB 2008 conference, to be held July 16th and 17th, 2008 in Austin, Texas, will teach attendees how to make better choices when marketing online by uniting SMB owners and entrepreneurs through prescriptive group and one-on-one sessions. Approximately 300 attendees, representing some of the country's leading small and mid-market businesses from throughout the nation are expected to attend.
"By providing small and medium sized businesses with the knowledge and insight to develop their Internet marketing strategy, the conference hopes to stimulate economic growth for the most critical segment of the U.S. economy," says Mark Dobosz, vice president of development for SCORE - Counselors to America's Small Business.
"Business owners need to empower their staff to understand and execute online marketing campaigns and maintain their corporate reputations online," said Todd Friesen, Vice President of Search Strategies for Visible Technologies. "This event definitely offers a rich educational curriculum in search engine marketing."
"Search engine and social media marketing strategies are now an essential requirement for building a successful business or marketing career," Kent Lewis, president of Anvil Media, Inc. "We will give attendees the necessary strategies, tools and techniques to exploit the wealth of online resources for their own business goals."
"In 2008, there are hundreds of thousands of organizations that claim to provide search engine marketing and social media services," Christopher Justice, Chairman of SEM for SMB and CEO of Sparksight, Inc. "Business owners are consistently challenged to evaluate, qualify and measure these companies or learn the skills to perform these functions for themselves. The SEM for SMB conference will serve as a primer to initiating or outsourcing an Internet marketing strategy."
SEM for SMB 2008 will have several presentation formats, including:

Keynote presentations from established industry experts
Community sessions with peer-to-peer working groups
Networking sessions to create new business relationships and technical contacts
Workshops with detailed examples and step-by-step instruction
One-on-one sessions with experts who'll work in real-time on your Website or marketing strategy
Demonstrations of the latest online technologies in action
SEM for SMB 2008 conference serves:

Established businesses, non-profits and government organizations looking to improve and grow with online marketing
New businesses that want to learn proven strategies and minimize their risks when marketing online
Professionals who are interested in becoming self-sufficient with search-engine marketing
Entrepreneurs looking for global and regional visibility through the Internet
Retail and service businesses who want to capitalize on the local search options that cost nothing, and increase visibility and revenue
Individuals with interest in interactive and search engine marketing skills for new career opportunities
About SEM for SMB 2008
SEM for SMB is aimed at small to medium sized businesses throughout the world at all stages of growth. The conference caters to businesses that depend on public websites, local advertising and search engines for visibility. Conference participants will receive highly targeted presentations with no sales pitches. Speakers have been carefully selected for their style, expertise and practical experience with search engine optimization, search engine marketing, pay-per-click advertising and social media.
About Sparksight
Sparksight offers interactive marketing and event management services that help organizations deliver compelling experiences online and in-person. Sparksight uniquely expands the reach of event planners to deliver online events that leverage unclaimed assets surrounding conferences and provides comprehensive production facilities to broadcast audio/video from sessions for instructional or commercial purposes. Sparksight employs the most talented and inventive graphic designers, videographers, web programmers and writers in the industry.
# # #