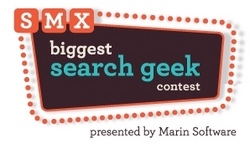 San Francisco, Calif. (PRWEB) December 20, 2010
Marin Software and Search Marketing Expo today announced the opening of the 3rd Annual "SMX Biggest Search Geek Contest," the popular quiz-based contest to win a trip to attend SMX West in San Jose, March 8-10, 2011.
The contest is now open at the SMX Biggest Search Geek website.
For all those geeks stuck in the office while others enjoy the holidays -- or those who are sneaking a peek at work email while the family celebrates downstairs -- the SMX Biggest Search Geek contest is a fun way to test your Search IQ *and* enter to win some great prizes.
Questions are not for the faint of heart, and are designed to test the best and brightest minds in the search marketing community. Last year's topics covered everything from A/B testing and landing page optimization to negative keywords, ad grouping, and ad bidding -- to questions about Google's history. (Q: What was the name of Larry Page and Sergey Brin's 1996 research project that laid the foundation for Google's search engine?*)
"SMX is the top search conference out there today, so any chance for a free ticket is worth a try," said last year's winner, Tim Ossmo, of Leapfrog Online.
Ossmo beat out others with a score of 80.8% in 699 seconds. In 2009, winner Keri Morgret beat out other search marketers with a score of 76.8% in 3722 seconds.
Second and third place contestants will each win a free Apple iPad.
The challenge tests not only how much you know about search marketing -- but how quickly you can answer the questions.
Marin Software invites the best and the brightest minds in search marketing to stand up and show their smarts in the third-annual SMX Biggest Search Geek Contest.
*A: Backrub.
Contest Details:

The SMX Biggest Search Geek Contest sponsored by Marin Software is open to anyone with the mettle to answer 20 tough questions about the ins-and-outs of search marketing.
The Grand Prize Winner will receive an iPad plus a free trip for two people to SMX West in San Jose, California, March 8-10 2011. The prize includes round-trip airfare, hotel accommodations, and two All Access Conference passes to SMX West 2011 for the winner and a travel companion.
The winner will also receive an award on stage from SMX West chair and Search Engine Land editor-in-chief Danny Sullivan, and will gain national recognition as the Biggest Search Geek for 2011.
The winner of the SMX Biggest Search Geek Contest will be chosen based on who answers the most questions correctly in the least amount of time.
Search marketing experts have until February 18, 2011 at 11:59pm PST to take the timed questionnaire.
The winner will be notified on February 21, 2011. The top 50 runner-ups answering the most correct questions in the shortest amount of time will each receive a "Search Geek" recognition award from Marin Software.
About Marin Software:
Marin Software provides the leading paid search management platform for advertisers and agencies worldwide. The company's flagship product, Marin Search Marketer® is designed to address the workflow, analysis, and optimization needs of enterprise-class marketers, saving time and improving financial performance. More than 500 brands rely on Marin Search Marketer to manage and optimize in excess of $1.8 billion in annual search spend. Leading advertisers and agencies using Marin Software include Razorfish, Neo@Ogilvy, University of Phoenix, Macy's, KAYAK, PriceGrabber, Salesforce.com and Reply.
About Search Marketing Expo and Third Door Media:
The Search Marketing Expo - SMX conference series is produced by Third Door Media, Inc. Third Door Media's mission is to empower internet and search marketing professionals by providing trusted content and community services they need to be successful. Search Marketing Expo conferences are held around the world and include: SMX West (San Jose, CA), SMX East (New York City), SMX Advanced Seattle (Seattle, WA), SMX Advanced London (England), SMX Munich, SMX Sydney, and SMX Stockholm. See the complete list at http://searchmarketingexpo.com.
Third Door Media publishes Search Engine Land, the leading search marketing news and analysis site. The company also produces Search Marketing Now, a lead-generation marketing solution for suppliers of SEM-related products and services, and operates Sphinn.com, a social news site that allows search and internet marketers to share news stories, participate in subject-specific discussion forums, and build their professional networks.
###